We have been blogging since 2002, before it was even called blogging. We had an article site that allowed comments at crmdeveloper.com, now part of our main site. We started slxdeveloper.com in 2002 as an article and developer forum, now called social media. One thing that was always a hassle for our non-technical bloggers was using FTP for giving download access to visitors, so we started using Box.net.
Box.net
– When we started using: Late in 2007
– What we were using: FTP
– Today: We use for file sharing and access between our marketing team, and for visitor downloads..
– Future: No changes planned.
Website: http://box.net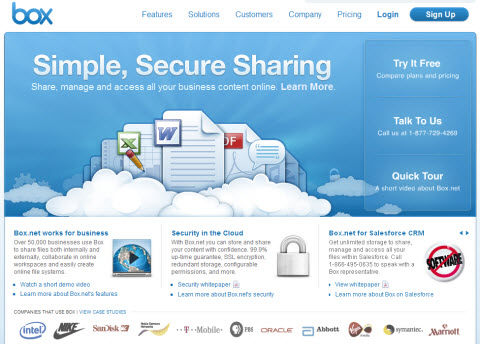 Moving to the Cloud Series
Citrix GoToAssist – Moving to the Cloud – Part 1
Basecamp – Moving to the Cloud – Part 2
Twitter – Moving to the Cloud – Part 3
Box.net – Moving to the Cloud – Part 4
Yammer – Moving to the Cloud – Part 5
Google Apps Premier – Moving to the Cloud – Part 6
GitHub – Moving to the Cloud – Part 7
Amazon Web Services – Moving to the Cloud – Part 8
Killing Trees Is Stoopid – Moving to the Cloud – Part 9a
RightSignature – Moving to the Cloud – Part 9b