I have released a big update for Git Extensions for SalesLogix. This new version includes a ClickOnce installer and will keep itself up to date automatically. The installation of Git Extensions for SalesLogix is now brain-dead easy. You just access a URL and click the Install button. Not only that, you'll automagically be updated to new releases as they become available. I've recorded a quick video to show how these new features work.
This update will make things great moving forward since you'll automatically get new updates without any effort at all. One important part of this release is that the SalesLogix.xml file is no longer updated at all. The Git Extensions for SalesLogix assembly gets loaded into Application Architect without any configuration changes at all. This will avoid the problem with Sage updates not updating the SalesLogix.xml file because it was modified. Kris described this problem here. This problem will no longer exist since the XML file is never touched with the new version.
The installer is a ClickOnce application. You'll just go to the install URL and a wizard will start: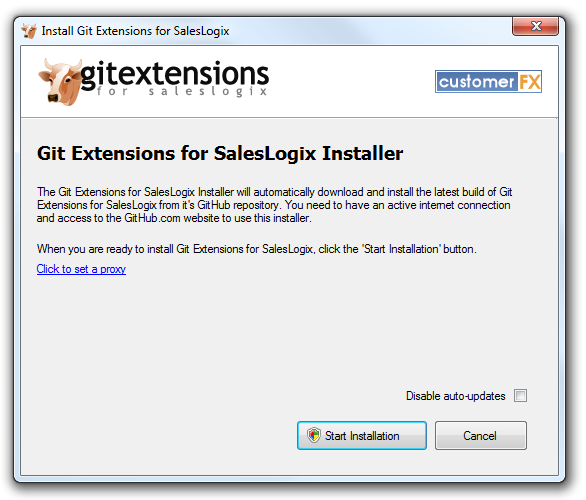 Install Git Extensions for SalesLogix
To install Git Extensions for SalesLogix you must remove any previous versions. This is only a requirement this time only. From now on things will self-update. However, if you've had an earlier version installed, this is very important. See the full details to install Git Extensions for SalesLogix, or for instructions to remove an earlier version, visit the project Wiki on Github
Install Git Extensions for SalesLogix
I'd love to hear feedback on how Git Extensions for SalesLogix is working out for you. Personally, I love it. It makes working with source control for a SalesLogix project painless and easy since it is all built right into Application Architect. Remember, all the installer stuff is brand new, so please let me know if you run into any bugs by leaving a comment, or even better yet, log it as an issue on the project site.