In my last couple blog posts about creating main views, we built our Insert and Detail views, as well as the Mainview container. We also covered creating New menu and Navbar items. The last thing we need to do to make our new main area usable is to create our first group.
Groups:
Each main area of SalesLogix (Account, Contact, Opportunity, etc..), has defined a number of default groups. At least one group must be created for each area in order to view any new data that has been added to our new main table.
Groups must be created in the SalesLogix client. To create our first group for SLXProjects, first go to the List view for SLXProjects.

Right click somewhere in the list area, and select new group to launch the SLX Query Builder.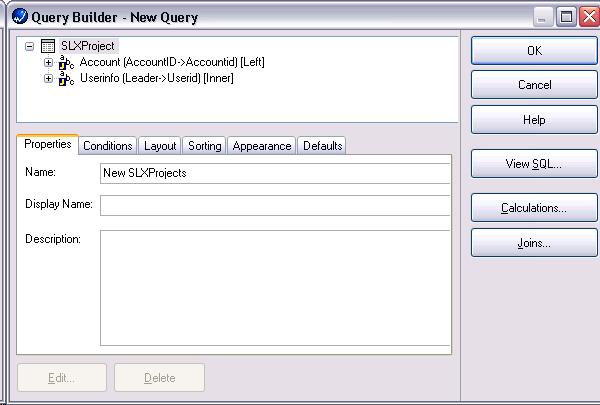 I name the group and set visible fields in the Layout tab. Since I want this group to display all records in the SLXProjectTable, I don't have to bother setting options in the "Conditions" tab, since all records will be shown by default. I created new global joins from SLXProject to Account and Userinfo so that I can display username and associated account values as well.

With our group created, we can now view new SLXProject records.
Adding additional tab views
Now that we have the main areas set up, we'll probably want to add additional tabs to SLXProject as well. To create a new tab, simply create a new data view using the new SLXProject table as the base table of the form.
To add a SLXProject family to save our new views, simply add a "SLXProject" picklist item to the Active Form Types picklist found in manage:picklists in SalesLogix Architect.
Once saved, the new views shows up under "More Tabs".

This should give you the basics of creating a new Main View in the SalesLogix LAN client. Hopefully, this demonstrates how simple it can be to expand the functionality of SalesLogix to meet your own specific business needs.
Thanks or reading! [:)]