One of the nice things about the bundle model concept in the SalesLogix Application Architect, version 7.2 and up, is the ability to drag items that have been modified into a bundle.  For instance, if you have added custom entity properties to the Account entity, along with business rules, and relationships you can simply take the Account entity in the VFS and drag it into the bundle items tab of the manifest right?  Not exactly.
As shown below we have the bundle manifest window open on the right with the VFS open on the left: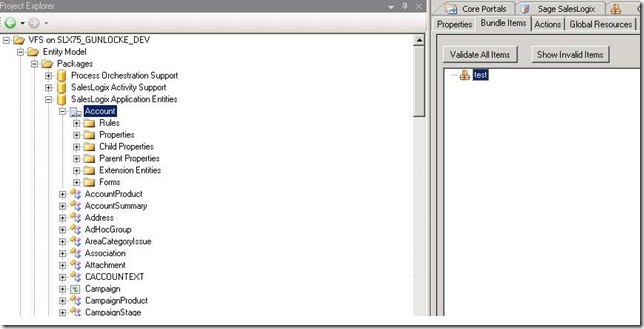 If we highlight the Account entity and drag it over, it is logical to assume that all of the components shown in the VFS come across.  Lets try it out.

As you can see it correctly adds the Account Entity.  If we expand it out we can see it includes Properties, Business Rules, Events, and Forms.  If you compare that to what is actually defined under the Account entity in the VFS on the right you will notice that relationships are not bundled.
To add the Account relationships you must drag the corresponding folder into the bundle, such as "Child Properties".  If we do that we can see the bundle changes: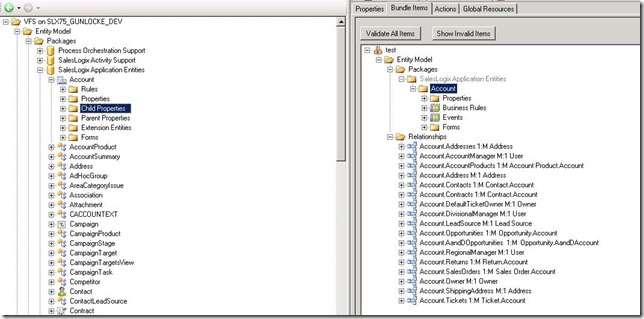 Make sure when you are building your manifests that all of the components you need are explicitly listed in the Bundle Item tab.  For entities, Child Relationships, Parent Relationships, and Extension Entities are not automatically added when you drag the entity over into a manifest.  If you don't see it don't assume it will make it into your manifest.  The bundling process in the SalesLogix web is not quite as robust as you might assume it to be.