Manage Remote Desktop Connections for the Enterprise
DeskConnect was born out of pure need by the Customer FX development and support staff. At Customer FX, we work the way that many development and IT shops work today with many servers and desktops spread out across the enterprise used for production, development, and testing environments. With the birth of virtualization this has become something that can be unmanageable since staff is not only expected to memorize the vast number of machines that are available on the network for remote connections (and their names or IP addresses), but also to attempt connections just to check for server availability.
DeskConnect came from the desire to have a centrally located and shared list of machines on the network available for remote connections. User's add new machines to the shared list and they appear for everyone. DeskConnect polls the servers to check which ones are currently on or offline which makes the use of temporary use virtual machines easier to manage.
DeskConnect is the Tool We Can't Do Without
Remote desktop management can be a pain if everyone is left to themselves to keep track of what is available. We had a need so we built a really cool tool to solve it. It is one we couldn't do without.
Take a look at the DeskConnect application screenshots (click for a larger image):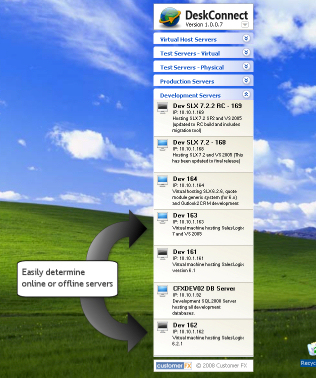 Here's How it Works
DeskConnect is an application that resides on user's workstations. It sits in the tray and polls a centrally located DeskConnect server for a list of remote machines that are configured to accept remote connections (via RDP).
The client application is installed from the DeskConnect server as a ClickOnce application. User's simply visit a URL on the DeskConnect server to install the application. This allows the benefit of having the client application be self-updating. As we release new versions of DeskConnect, you simply place the files on the DeskConnect server and each client will automatically update themselves without your users needing to do anything (or even know that it took place).
With the client running on the desktop, the DeskConnect server is polled via web services to grab any newly added, updated, or deleted remote servers. The user will see the list of available servers on the network in their DeskConnect client and will even see which ones are online and which ones are offline. The user can double-click one of the remote servers on their DeskConnect list to connect to that server via RDP. If the user has entered their network credentials in the DeskConnect preferences, these will also be securely passed to the remote server and they will be automatically logged in (the windows logon screen will be bypassed). How's that for cool?
As as new remote server is added to DeskConnect, the clients are notified via the DeskConnect server and they will even get a popup in the system tray.
DeskConnect Features





Connect to remote desktops in a single click of the mouse. You won't even have to worry about logging into the remote server since DeskConnect will do that for you






Connect to a new session or to the console (as if you were sitting at the remote desktop and logged on locally)






By notified of new remote machines added by others on the network






Visual indicator to see which servers are online or offline






Full control over the remote sessions. Performance, resources mapped from local machine to remote sessions, display options, etc






Self-updating application. Installs from a URL in the browser and will keep itself current with updates without user involvement






Look and feel of application inherited from current windows theme
Technologies Used





Remote Desktop Protocol






Web services






ClickOnce






Built with C# / .NET 2.0
Download
When can you get DeskConnect?
DeskConnect is currently in private & internal beta only. Lab project status can change at any time. Check back later for availability or contact Customer FX for special early arrangements.