I recently ran into an issue when trying to edit a SalesLogix table in the SQL Management Studio 2008. I was trying to increase the length of a field while in a table's design mode. When I went to save my change I received this error:
Saving changes is not permitted. The changes you have made require the following tables to be dropped and re-created. You have either made changes to a table that can't be re-created or enabled the option Prevent saving changes that require the table to be re-created.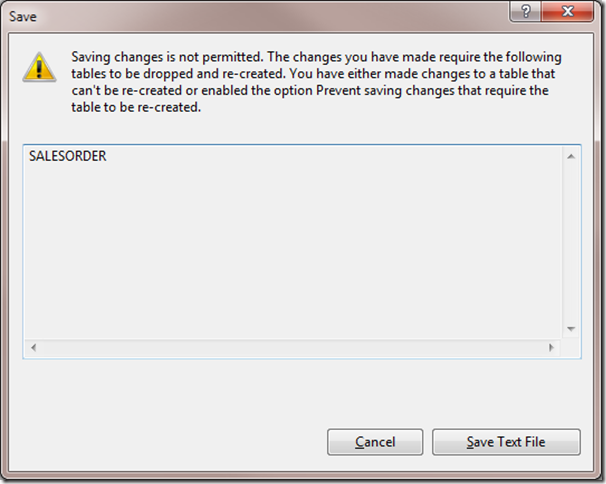 Now I have done this countless times in the past and wasnt sure what was going on but the last part of the error message pointed me in the direction I needed. Turns out that a default option for the SQL 2008 management console prevents edits to tables like I wanted. After a little digging I found where to turn this off.
In the Management Console, click the Tools drop down menu, then Options.
This will open a dialog. Expand out the Designers node in the left side tree, then click the Table and Database Designers. That will show options to the right. Clear the checkbox "Prevent saving changes that require table re-creation".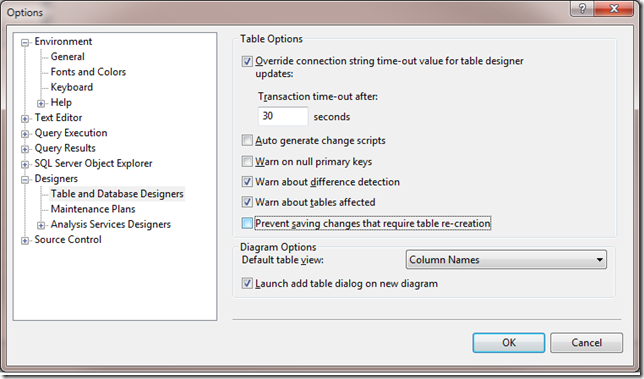 Click OK and that is it!