In the post dated 13th of January 2009 labeled SalesLogix Opportunity Reports (Part 2) and because of a second review of the Quota Vs Actual Sales Crystal report, I believe that this report is in great shape. I started down the trail of fixing the Sales Process Stage Analysis but after working a few items in the report I am still not comfortable that the data the report displays is accurate to the report intent. So today I will write about the minor adjustments we will make to the Sales Process Step Usage.
Start Excerpt……………….
The Sales Process Step Usage report is another that supports the Sales Processes. No graphs with this one, first you are presented with a over all roll up of the data per Sales Process and then a by User break down. I did discover one issue with both of these last two reports. The stages are sorted ascending and then the steps are sorted ascending under the stage, I know that I would prefer to see the steps in the order they appear in the Sales Process. This can easily be done by using the specified order option for each group created in a report.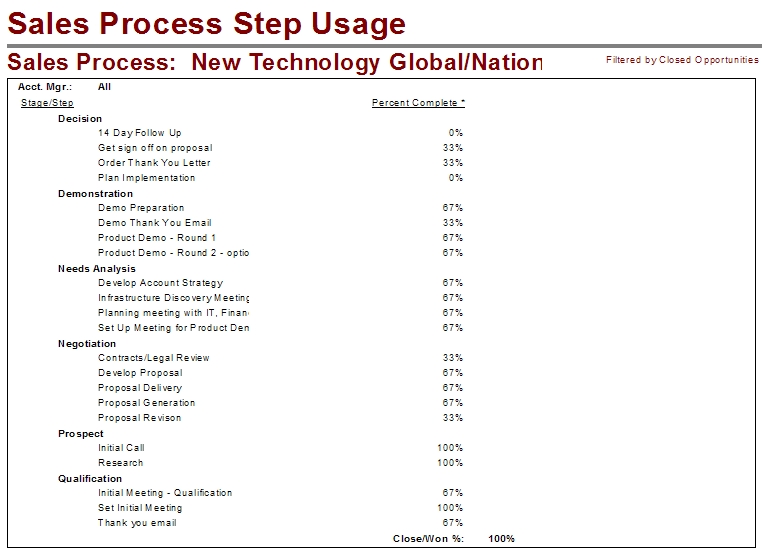 End Excerpt………………..
This will be a quick fix. The group is sorting ascending using the SALESPROCESSAUDIT.STAGENAME field, we will simply change the group to use the SALESPROCESSAUDIT.STAGEORDER field. This is done by right clicking on the Group Header #3 on the left side of the Design tab and select Change Group.. from the list that appears. When the Change Group Options interface opens use the look up to find the correct field and close by selecting OK button. You will see that a number now appears instead of the name of the stage. To change this delete the field out of the report and search for and find the SALESPROCESSAUDIT.STAGENAME field in the Field Explorer tree control and re-add it to the proper position. Of course there is some alignment and formatting to do and when that was complete everything looks as it should.
I said it would be quick. I plan to take an in depth look at the Sales Process Stage Analysis, ensure it putting out accurate numbers, and release the updated report next week.
Download the updated Report here and thanks for reading.
Get all of our Free SalesLogix Reports here…
Thanks for reading, stay safe and keep smiling.
Geo