In The 7.5 application architect, you have the ability to add picklists to a manifest in the Bundle Model.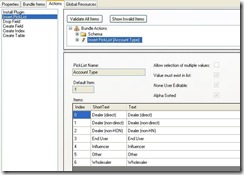 While this would be a nice feature to have there are a couple of things that make using is problematic enough that they should not be included in manifests.
You do not have the typical ability to select which items you want to include from the picklist, like you do in a traditional bundle.  Your web bundle will contain all items in the selected picklist.
You do not have the option to replace the existing picklist entries like you do in a traditional bundle.  Your custom picklist entries will be appended to the picklist in the system the bundle is applied (you can not overwrite what is there).
Re-installing the manifest will re-add the same picklist entries.
The biggest thing is that when adding a picklist (like Account Type) to the manifest; when this is installed into a system a second picklist with the same name is created in the PICKLIST table.  What you see in the manage picklist dialog in Architect or Admin is only one of the picklists with its entries.  What the web client presents is both picklists with all of the entries combined.  This is a major issue because it essentially orphans some entries in a picklist that you can not see or manage, without using T-SQL on the back end.
Because of these issues it is our recommendation that picklists be delivered via a standard bundle and not included in a web bundle.