I am going through and reviewing to make sure we have covered all of the standard Crystal Reports that come with Sage SalesLogix. I think I am almost done but I want to make sure I have covered them all. If I find any that are not covered I will make sure to write. Today we will discuss a standard SalesLogix capability that some people may not know about.
Recently a client, and a friend, contacted me about creating a Calendar Report for SalesLogix. He showed me an example of the report and I thought he was kidding me. I said, you know this report is already available for use in SalesLogix. He honestly did not know that the report existed so I thought I would write to try and ensure that others are aware of this valuable report.
To run the SalesLogix Calendar report, navigate to the SalesLogix "File" menu and select "Print Calendar Reports…" from the list.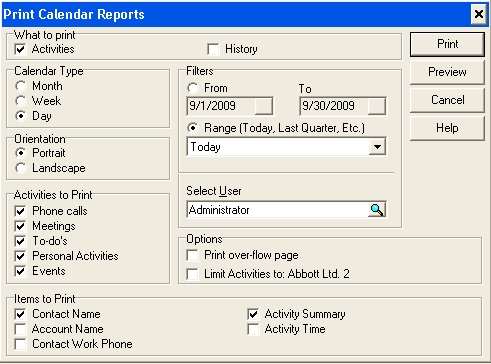 This opens the "Print Calendar Reports" view, the fields selected in the picture above are set as the defaults. You have the ability to select Activities or History (or both) type of records. You can also multi select the Activity Types and the fields you want displayed in your report. In the center you have the ability to select a date range or use eleven standards such as "Today", "Year to Date" and the "Last Month". You also have the ability to report on other users calendars, but only the users that you are allowed calendar access to through the SalesLogix Administrator.
You can play around with what settings work best for you, the important thing is to know it is out there.
Here is an example: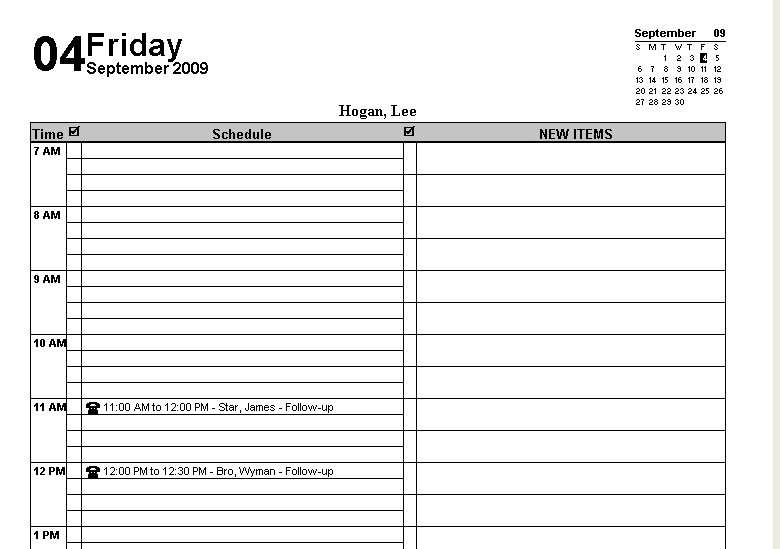 FYI, this is not a Crystal Report that can be modified. Pretty cool capability thoung and valuable for that busy Sales or Service personal.
Remember to look for any of our updated reports for free download here under " Free SalesLogix Reports"
Also remember we have a class coming up. Crystal Report Writing for SalesLogix
Thanks for reading. Geo