After my post on SalesLogix Cloud vs. Salesforce storage costs, I thought I'd take a step back and look at overall costs. What an eye opener. If you annualized the cost, Salesforce may be the most expensive CRM solution in the history of computing – $5,100 per user, PER YEAR. I thought the Cloud / SaaS / Subscription model was supposed to reduce costs to the customer. The problem for Salesforce is that it's a Dot Com company launched in the 1990's, with Dot Com technology under the hood, with a Cloudy Webby 2.0 marketing message. It just doesn't add up. Given their razor thin operating margins, their high cost of proprietary infrastructure and high sales and marketing costs, what would happen if they were forced to offer competitive pricing? Maybe we'll find out some day soon.
Bottom line: Salesforce Cost 650% More Than SalesLogix Cloud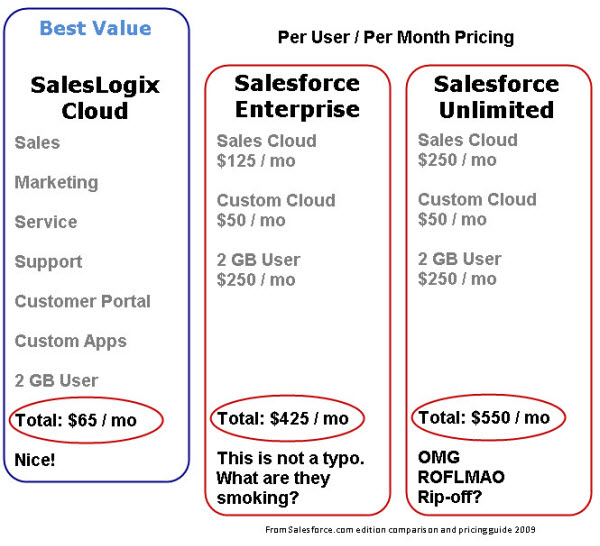 SalesLogix Cloud vs. Salesforce.com
More in this series:
7 Ways SalesLogix Cloud Beats Salesforce.com
Salesforce Storage 500 Times More Expensive Than SalesLogix Cloud
Update: Scott Weber, our CRM Practice Manager, just talked with a prospect who is swithing from Salesforce to SalesLogix Cloud. The Salesforce customer verified our pricing comparision.
Update 2: Getting a lot of hate comments on this post from Salesforce Fanboys – I'm not going to publish them. Go publish your rants somewhere else.