Everyone has heard about SaaS and now the all the buzz is the Cloud. We may have our own opinions but here is how the National Institute of Standards and Technology defines the Cloud.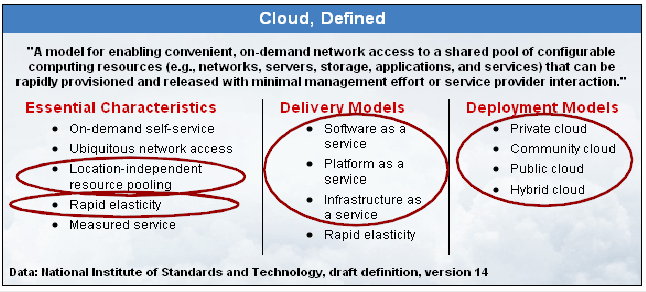 What are the advantages of the Cloud model over SaaS? Cloud platforms can offer elastic scalability and secure platforms, they are location independent, allow for more advanced integration capabilities, they remove the emphasis on hardware/software deployment and shift the emphasis to functionality and user acceptance.
When will SalesLogix be offered in the Cloud?

Sage Software has announced they will be offering a SalesLogix Cloud product in 2010. This offering has added benefits for existing Sage customers.
—  Data Ownership: Businesses retain ownership of all their data and
    processes — with full reuse and compatibility on-premises — a benefit not
    provided by most current multi-tenant SaaS CRM alternatives.
    
—  Upgrade Control: Businesses can choose when to trigger an upgrade to
    the latest cloud computing edition of Sage SalesLogix, rather than have an
    alternative SaaS vendor's upgrade schedule and any unwanted features forced
    upon them.
    
—  Deployment Flexibility: Businesses receive the benefits of a hosted,
    on-demand solution with the flexibility to migrate to an on-premise
    deployment should their needs change. Likewise, on-premises Sage SalesLogix
    customers can transition to the cloud edition.
    
—  Customization Flexibility: Businesses can adapt CRM to their own
    unique sales, marketing and support processes, without the common
    customization restrictions of multi-tenant SaaS offerings; or use industry-
    specific versions built by Sage business partners.
    
—  Buying Flexibility: Businesses can select a subscription purchasing
    option, in addition to the existing perpetual license option for Sage
    SalesLogix, and benefit from the flexibility to purchase CRM in the manner
    that best suits their business model and financial goals.
This is the general side of the SalesLogix Cloud offering – look for more details and personal experiences in future posts.