Tired of adding new SalesLogix Evaluation licenses to all of your demonstration databases?
SalesLogix License Updater is a utility that assists business partners to update multiple SalesLogix databases that contain evaluation licenses. SalesLogix periodically publishes evaluation license unlock keys that are only good for a period of a few months.  As a SalesLogix business partner, we often have many SalesLogix databases on our network utilizing these evaluation licenses – Once the evaluation key expires you have to log into each database using the SalesLogix Administrator and add the new unlock key license.   Obviously this can be time consuming if you have a lot of these databases.
With the SLXLicenseUpdater you can simply just log onto a SQL Server instance on the network, specify the new eval unlock license key and the utility will examine each SQL database on the system, determine if it is a SalesLogix database and it that database contains evaluation licenses.  If it does it will add the new unlock key license automatically, provided the key does not already exist.  Additionally you'll see which SalesLogix databases are hosted there, what version of SalesLogix they are for, which SalesLogix server they are hosted on, and when they were created, and whether the new license key was applied to the database.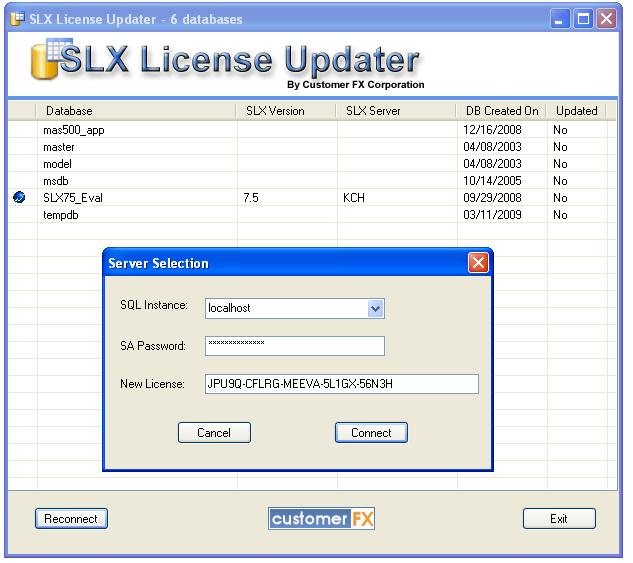 Talk about making it easy. No more manual updates. SLXLicenseUpdater sits in your tray for easy access when you need to add evaluation licenses quick. This utility works for all SalesLogix versions from 6.2 and newer.
You can obtain a free beta download from the Customer FX Labs.
Technologies Used
Microsoft .NET 2.0 Framework

Win32 Network APIs for SQL Server discovery (no need for locally installed SQL DMO)

SLXLicenseUpdater is a beta release and provided "as-is" with no warranties. Thanks for visiting the Customer FX Labs.