There are sixteen more to go in our review of the standard reports that come with an implementation of Sage SalesLogix. All of these reports are in the Ticket area. Since there are so many, I am going to break this up over numerous posts. Today we will cover two reports, both use the condition fields of Modify User and Modify Date.
The first report we will cover is the Support Billable Time Ticket. The reports intent is to provide a list of Billable tickets to the reader. Billable Tickets in this report are defined as any ticket with records in the TicketActvitiy table whether the activity is billable or not.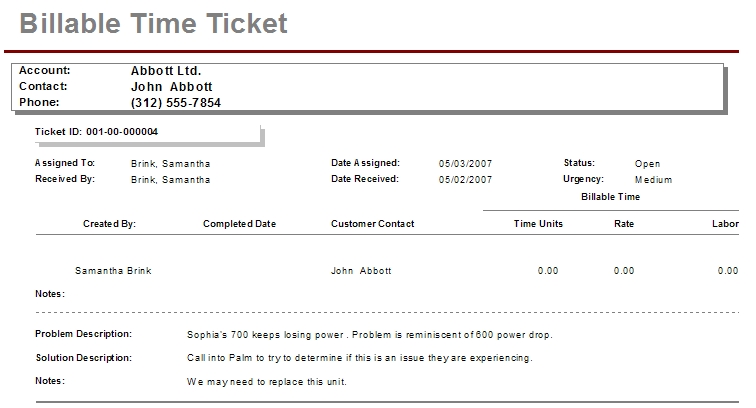 Data in the report is organized by Account, then by Ticket, and finally by Ticket Activity. I notices that the report is not displaying user notes for the Ticket Activities. I checked in Business Objects Crystal Reports and found that the field being used is the TICKETACTIVITES.SHORTDESC field, my check of the database showed very little data in this field. To fix this issue I would use the TICKETACTIVITIES.ACTIVITYDESC field.
The report probably is appropriate as written for most Ticket reviews but to make this a report that provides an accurate representation of billable tickets I suggest modifying the report to also display the total dollars amount for installed parts and then finally a total dollar amount for the Ticket. Then only display records where the Total Ticket Amount is greater then $0.00. Then roll up the dollar amount being billed to each Account. We did update this report, follow this link to see how.
Now lets look at the Support Call Turn Around report. The purpose of this report is to provide the number of hours it took to close a ticket. When you run the report from SalesLogix you will prompted for a Date Range. The date range is then compared to the TICKET.CLOSEDATE to select records for the report.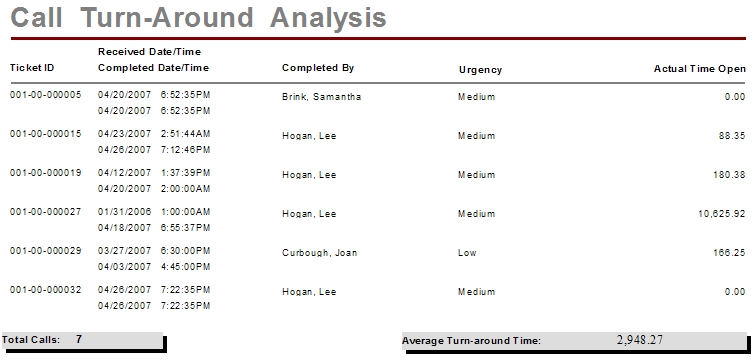 From my point of view all of the data is displaying as intended. I think there is enough room in the report to add additional items like the Tickets Account and Contact names. I also think it would be important to sort by the Actual Time open. I mean if the intent of the report would be to find the tickets that took longer to close. This change would display those records up front allowing you start your reseaarch instead of having to spend time searching for the records from within the report. The changes were made, follow this link to see how.
I am going to try to knock out the remaining ticket reports by the end of next week. So please come back for more. I am looking for topics for the next series of posts so please do not hesitate to comment. Thanks for your time.