I just watched a Salesforce.com presentation highlighting their new "Document Management' solution which was just announced at the recent Dreamforce conference. The presenter said that they purchased the solution from another company and that they have been working to integrate it into Salesforce which they have. He stated that it is an extra cost module, about $10 per month per user, that can be added to any SF subscription package. I had to chuckle when I noticed that several of the documents stored in the database he was using for the demo were about how installed on-premise software has many extra costs and hidden fees.
BTW, I got a follow up email within seconds of registering for the web presentation which was clearly a shabby automated merge form with different fonts and type sizes for the body and salutation. I find it irritating and unprofessional that even though I have had a SF subscription for years, every time I respond to any of their marketing efforts I get a new rep instantly pestering me who has no clue who I am or that I am already a subscriber let alone the fact that I have told every previous rep that I am a self-employed, part time, retired, non-profit dirt farmer so not much opportunity for the upsell.
Anyway, back to the point of this blog… I kept a mental score during the demo of how SalesLogix stacks up against SF as far as document management goes. The short answer is; they are pretty much the same. Both have the ability to store and organize documents of various common types, search by key words and tags, column sorting, phrase searches, relevancy ratings and rankings, thumbnail views, central and user administration and expiration dates. SalesLogix goes further by integrating the library with Outlook so that you can directly attach documents to an email. SalesLogix also allows you to expand the search to incorporate documents attached to your Accounts, Contacts and Opportunity records.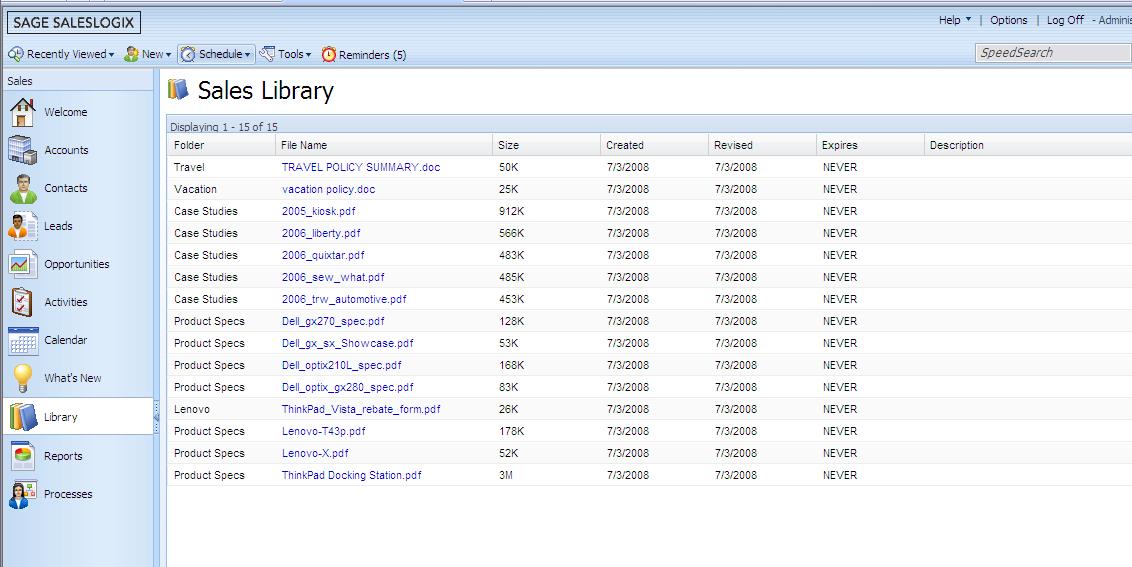 One last point – all of this Document Management functionality is included for all users at no extra cost with all current versions of SalesLogix. Chalk up another win for SalesLogix.