I recently ran across an issue on a client's system that had been upgraded from SalesLogix 6.2 web to SalesLogix 7.5 web. Upon trying to use the new web client after the upgrade, they received an error "We apologize for the inconvenience, but your request cannot be completed. Load Group XML Failed" whenever they attempted to navigate to the Opportunity area of SalesLogix.
The solution took a while to figure out but thanks in part to Ryan Farley's Group Explorer utility, I was able to identify and fix the problem. The previously mentioned utility is a group explorer that utilizes the same SalesLogix DLLs as the web client for viewing and displaying group data.
In my case I discovered that one of the opportunity groups did not have data in the correct format. When I examined the various opportunity groups in Ryan's SalesLogix Group Explorer I found this message when trying to view one of the groups: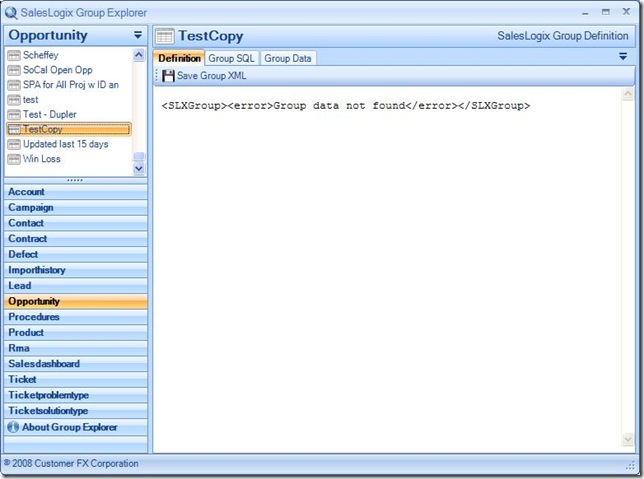 Normally a group contains XML information that describes the group name, description, criteria, columns, etc., such as this: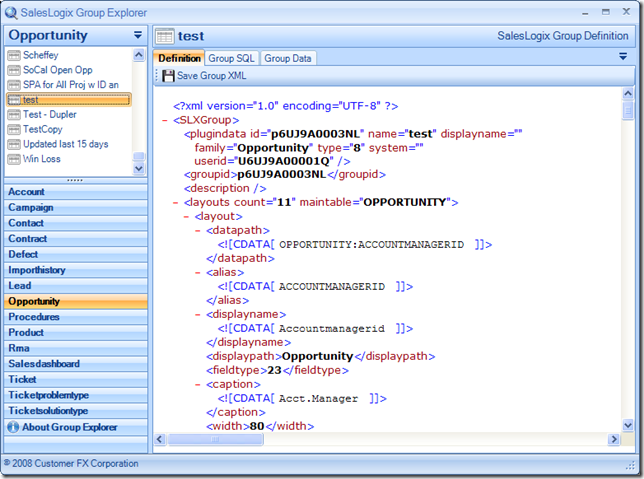 When a main view opens in the SalesLogix 7.5 web client, the system needs to examine all of the groups the logged in user has access to and parse out details from each of the groups. While the groups do not actually return results until you make the group the current active one, all of the group XMLs need to be interrogated to determine what the name of the group is so that they can be displayed.
Since all of the groups were visible in Ryan's utility except one, I examined that group via a SQL query to the plugin table using the following statement:
select * from plugin where name = 'TestCopy'
The results of my query showed that the plugin did exist but that the data column was actually null:

Since no plugin should contain null in the data column (This is the column which actually stores the content of the plugin.) I was able to determine that there was an issue with this plugin.
By running a delete statement I was able to remove the offending plugin.
delete from plugin where name = 'TestCopy'
As soon as I had removed this plugin and logged back into the Web Client, the Opportunity screen opened without an issue.