For the last several posts I have been writing about my first hand experience using the reporting tool called Stonefield Query for Sage SalesLogix. I thought it might be time to wrap it up with some overall final thoughts. For those just joining the experience the series of post starts here. My blog series was meant to provide, at a high level, the ease of use and how I was able to accomplish what I think are some primary tasks for a reporting tool.
Overall, I really do like the tool. I think it is fairly easy to use, the documentation is well written and easy to follow which for a new user is very important. The people at Stonefield Query are very responsive to questions and are easy to work with. Stonefield Query would be great for someone who wants quick on the fly reporting with very little training. The more the user works with the tool the more they will be able to write more complex report. After the install there has not been any need for additional support from my system administrator which adds to the simplicity.
As with all tools like this there have been some little quirky things within my experience like the interface locking up or messages stating the connection to the database has been lost. All were self correcting by simply closing and reopening the tool. These things did not happen that often and in a system as complicated as ours could have been caused by issues outside the tool.
The only suggestion for improving this tool would be to limit the number of dialog boxes used to accomplish tasks. For example filtering: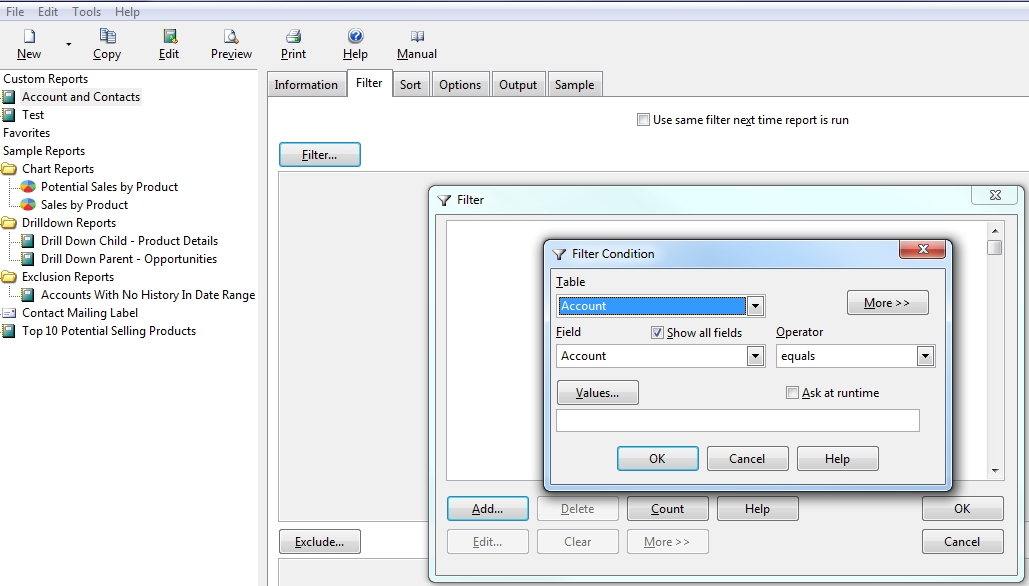 As you can see, you have the Filter Tab which shows you the filters that have been created for the report in an easy to read format. In order to add or edit the filter you select the "Filter" button which opens the "Filter" dialog that again list the filters but in a more segmented manner, to add or edit a filter and select the appropriate button and the "Filter Condition" dialog appears which helps you add or edit the filter. I only bring this up because at times I found myself lost as to which dialog I was working in, especially in a multiple monitor environment.
In the end, if this is what I have to complain about, then maybe I am just a whiner. I like this tool and think it will do the trick for most users. I hope these posts will help someone on their decision to purchase. I have tried my best to give an honest representation of my experience using Stonefield Query without getting to deep into the weeds. Please Contact – Scott Weber @ scott.weber@customerfx.com if you are interested in seeing a demo of this reporting tool. Thanks for reading and Keep Smiling -Geo