In my last post I talked about international localization in the Infor CRM web client. It comes with the 5 standard, but what if you want to roll a new one out? Well it is as simple as adding new resource files for the pages you want to convert. The resource files are stored in a subfolder that houses the user control. They are named in the format of [User Control Name and Extension].[Culture Name].resx. So for instance the Italian version of the Account Details user control is AccountDetails.ascx.it.resx. The list of culture codes to use can be found all over. Here is a listing.
For custom smart parts you are responsible for creating your own separate resource files if you want to. For QuickForms you can do the following to add custom ones.
Open the Quick Form you want to apply new cultural localization to.

In the upper right you will see "Click to modify form resources" Click It.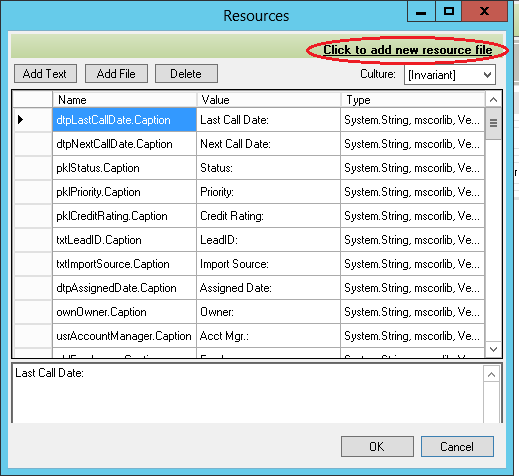 Click the link in the upper right "Click to add a new resource file".

Select the new Culture you want to add a localization file for. Optionally, you can specify an existing resource file in the "Copy From" so you don't need to start from scratch.
Click OK. You will be taken back to the previous window to now edit your localization resource file.
That is it! The next time you build and deploy, you will see a new resource file in the App_LocalResources sub folder of the SmartPart folder containing whatever quick form you did this against.
A word of warning, if you do make a custom resource file you cant put only some of the keys into it. When the user control opens it will use the matching culture's resource file. If the user control expects a key to exist in that resource file and it doesn't you will get a run time error and your smart part will not load.