What we have here is not new functionality per se but rather a nice improvement to the user experience and a closer match to how the SalesLogix Windows client works making it potentially less of a stretch to make the switch to the web interface.
Scheduling, completing and generally managing your activities in SalesLogix represents the core "moving parts" of the software at least for a power user anyway. All of the rest of the data sitting in the system doesn't really change that much compared to the constant state of change of your activities so I'm glad they decided to spend some time improving this area of the new 7.5.1 web client.
Here is a screen shot of one of the brand new views called the "Summary" view. It is kind of a hybrid view between the list view and the detail view showing more data about the activity then you could fit on a single line in a grid view. Several of the fields are also hyperlinks that take you to the linked destination with one click and others pop up a mini window showing the entire contents of the field when you hover your mouse over that area. This is the kind of web 2.0 stuff that makes you forget you're running a web app.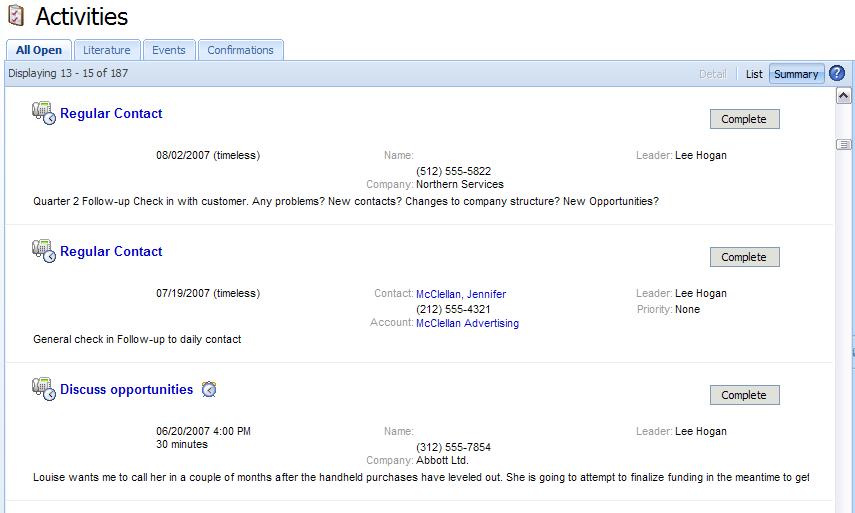 Another change is that the activity detail view is now presented as a seperate window over the top of the main window rather then taking up the entire screen. Again, this is more like the behaviour of the Windows client and you don't need to take up the entire screen just to show the detail of an activity anyway so this was a good move.
Last but not least, there are some nice changes in the layout and graphics of the activity list view, check it out.