When adding or removing items from a SalesLogix 7.5 web manifest, it is important to note that the Application Architect is not very good at properly cleaning up after you, nor is it good at adding to items to a "dirty" manifest.
To try to make sense of what this means, it is easier to show some examples. Lets look at a common scenario.
I have created my manifest and am starting to add things to it. Imagine, I have added a new business rule to the account entity, so I drag it over to the manifest's "Bundle Items" tab: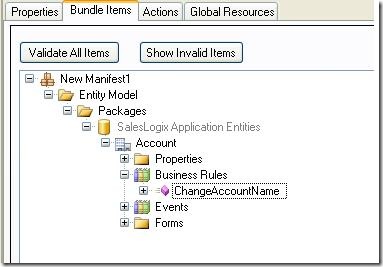 Now I realize, "oops I added the wrong business rule". So what do I do? Well being logical, I right click in my Bundle Items tab on the Business Rule and select "Remove". You will notice now that in my manifest I have an empty Business Rule folder (No plus sign next to the Business Rules folder):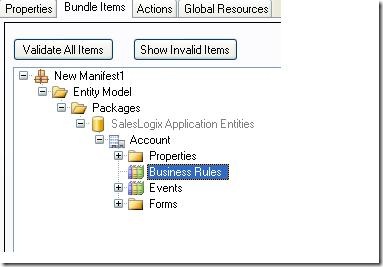 If I try to save my new manifest with an empty folder structure, SalesLogix will puke trying to serialize the XML of the manifest to the VIRTUALFILESYSTEM table. You will receive an error such as this:

Now that we have an empty folder in the manifest, some other issues to note. If you try to now add a new business rule to the empty folder, they will not add. I am pretty sure this is because the SalesLogix manifest code assumes that if a folder exists there are at least some child entries under it, so when it encounters an empty folder it will not properly add items to it. The way you can fix this is by first deleting the empty folder by right clicking on it and selecting "Remove". You can then drag your new Business Rule over and the manifest will re-create the Business Rule folder and place the rule within it.
So until SalesLogix enhances the bundle manifest interface, remember be vigilant with your manifest clean-up. Don't assume just because you deleted something, all of the related structural items within the manifest have also been deleted.