The first step in creating a report in Business Object Crystal Reports is always the connection to the database. In a post labeled "Report Database Connections", I discuss one method of making a connection to a SQL database. That post will lead you through how to make the connection using the Microsoft OLE DB Provider for SQL Server using the sysdba login and password. There is also a SalesLogix OLE DB Provider and since this is the primary way of a making a connection to SalesLogix data, I thought I would take the time to talk you through making this connection for Crystal Reports.
What is required to make this connection is the SalesLogix Admin Password, the location of the SalesLogix Connection Manager, and the SalesLogix Connection name. If you know or can obtain the password the rest is easily accessible by logging into the SalesLogix Client.
Instead of logging in, click on the button located to the right of the "Log on to:" field. This opens the Data Link Manager.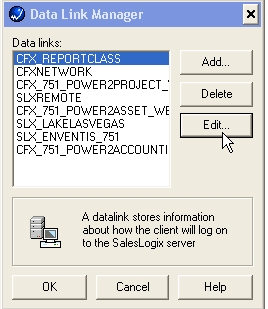 Usually you will just see one or two database connection listed here. Select the database that you want to report against out of the list and then click on the "Edit" button. This action will open the Data Link Properties window.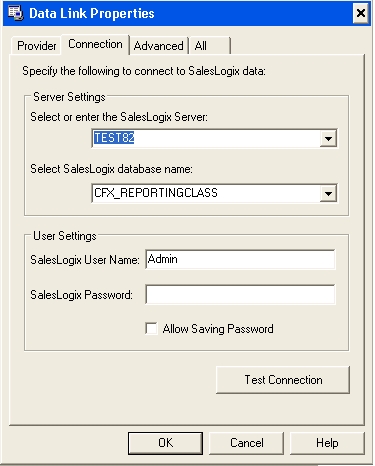 Now you will see the SalesLogix Server Name where the SalesLogix Connection Manager is located for your system ( for me it is Test 82), and the connection name given to the database you want to connect to (CFX_Reporting Class). The password may be visible but it will be encrypted.
Armed with this information, let's open Crystal Reports. When Crystal opens, select the New Report icon located in the upper right hand corner of the tool bar, selecting this should start the Crystal Report Wizard. The first screen of the wizard should be labeled "Data". You should also see a list of "Available Data Sources" along the left side of the interface.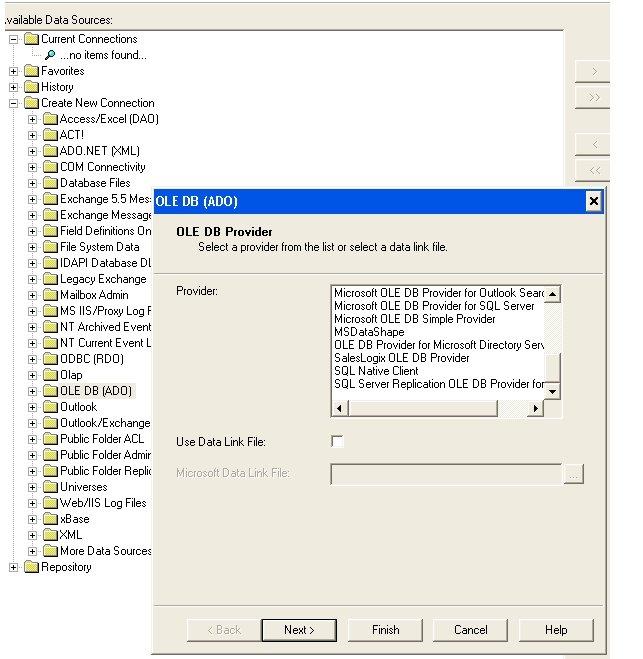 Click on the Create New Connection Listing. Once the tree opens, find the "OLE DB (ADO)" listing.
When the OLE DB (ADO) appears scroll all the way to the bottom of the list, in my example I see the SalesLogix OLE DB Provider, third one from the bottom. Select the next button and the OLE DB (ADO) connection screen will appear.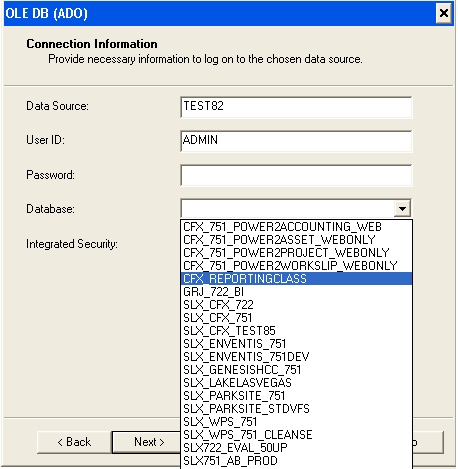 Fill in your database information.
Data Source = your SalesLogix Server Name
User Id = "Admin"
Password = your Admin Password.
Database = the SalesLogix Connection Name
With the correct data added, select the "Finish" button.
Now the connection will appear under the OLE DB (ADO) listing in the data source tree. Right click on the connection name and select "Add to Favorites" from the list that appears. Your connection is now saved for future use. Open the Favorites list in the Available Data Sources tree and you should see your connection.