If you had a tab you wanted to hide in the LAN client, all you have to do is remove the current release. Once that was done, the Admin user will continue to see the tab, but no other users will have access to it. This is something that you can do in the Web client fairly easily as well, although you have to go about it slightly differently.
In this post, I'll do a quick walk-through of hiding the Products tab in the Opportunities area of the Web Client.
The first step would be to create a new Role in the Web client. This Role will be used on any tab you want to hide from users. First, login to the web client as Admin, right-click the Roles button in the Administration section of the Navbar and select "New Role".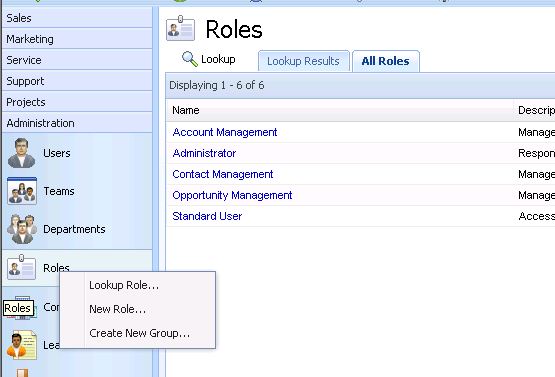 On the Insert Role screen, give the new role a name (and description if desired) and click the "Save" button.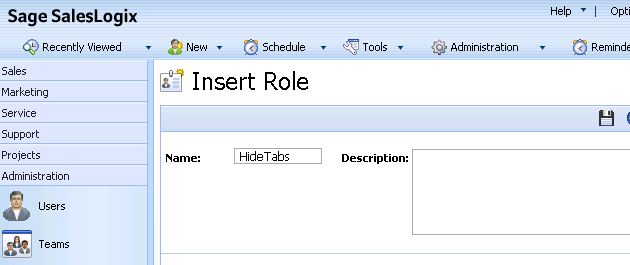 When the Role is created, you will have access to a "Users" and "Actions" tabs for this Role. Since we are only using it to hide tabs to all users, there's no need to define anything in either of these tabs. If you did want particular users to still see the tab you were trying to hide, simply add them under the Users tab. The Admin user is exempted from the Roles functionality and will continue to see the tab.
With the Role created, launch the Application Architect. In the Project Explorer, expand Portal Manager->Sage SalesLogix->Pages and double-click "Opportunity Detail" to open the page. With the page open, Select the OpportunityProductEX(Custom) smartpart from under the Smart Parts tab. In the "Allow Roles" dropdown for the smartpart, simply select the Role you just created.
After a rebuild, and redeploy, that's it! The Opportunity Products tab should now be hidden for all but the Admin user.
*Note, this will only work on smart parts in the TabControl target workspace. In the case of the Opportunity Products tab, this is also shown on the Insert Opportunity view, but in the MainContent workspace. To remove products from the Insert Opportunity view, you would need to actually delete the Smart Part from the Page itself.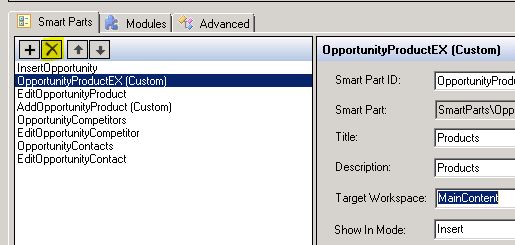 I hope you found this post helpful. Thanks for reading! [:)]