Today at Microsoft's Build Developer Conference, a new, free, cross-platform code editor for web applications named Visual Studio Code was announced. This new IDE is more lightweight and similar to other text-based code editors like Sublime or Atom. The IDE was actually built on Github's Electron node-based framework (the same thing that Github's Atom editor is built on). The IDE runs on Windows, Mac OS X, and Linux and can develop web applications using ASP.NET, Javascript, or whatever else.
Now, to the point of this post. It also works as a great IDE for Infor CRM (Saleslogix) Mobile. It's free, and if you work like me, you're not always using the same operating system. When working with Infor CRM Mobile, I prefer developing on my MacBook. However sometimes I need to do the work on a Windows instance, depending on where the SData portal is I am working with. Using an cross-platform IDE allows you to work with a familiar set of tools no matter where you're working. Also, it has built-in Git support which is really nice.
Here's a look at Visual Studio Code with the Infor CRM Mobile code open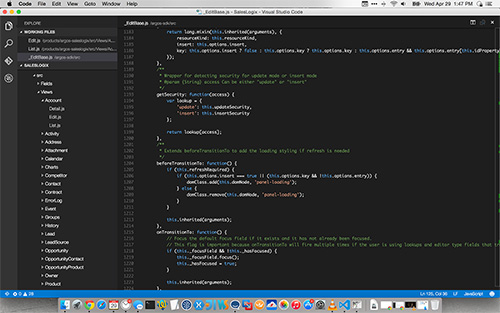 (Click image for a larger view)
So far, looks promising. I'll admit, it will take a whole lot for me to move away from my preferred IDEs when working with the mobile client (IntelliJ and WebStorm). I mean, a WHOLE lot. I love JetBrains IDEs. Frankly, I'm not sure VSCode has much to offer yet over other editor – but there's some real promise behind it and it will be interesting to see where Microsoft takes it. However, if you're not yet tied to an IDE, Visual Studio Code looks like a good place to start. Also, it's free. I'm not sold on it yet, but it is only currently a preview. Time will tell if it can stack up to other editors. For working with the mobile client, it will do the job for sure. Either way, make sure you're using some sort of intelligent editor at least and not just a plain old text editor. You'll be so much happier.
Download Visual Studio Code and give it a try:
Download Visual Studio Code
Feel free to share your thoughts on this new IDE in the comments 🙂