We are almost done with our report by report review of Standard SalesLogix reports, there are only 20 or so more to go. Today we will discuss the 5 remaining Opportunity reports.
All of the remaining Opportunity reports use the condition filter fields of the Account Manager and Estimated Close date.
The Opportunity Summary report is a simple little report that provides basic Opportunity information. But this simple report has some issues, First, when you run the report you are asked if you want to display each "Account" on a new page, Here again this parameter does not do what it indicates it should. The parameter should read each "Opportunity" on a new page. There is no reference to the Account in the groupings with in this report. Also, if you look you see the date fields are showing both date and time. One other suggestion for this report would be to add a parameter on whether or not to include History items. Read on how we updated this report.

On to the Potential Sales Opportunities report. The data displayed in this report is very basic Opportunity level stuff. Nothing really major comes to mind as I ran the report. I do notice that the date field in the detail is formatted correctly.

What is really cool, the report allows the user to choose one of three sub reports that provide different flavors of roll up. This is done using the On Demand sub report option. I liked the way this is done, very very clean. Nice report but I was able to make some adjustments, follow this link to see what we did.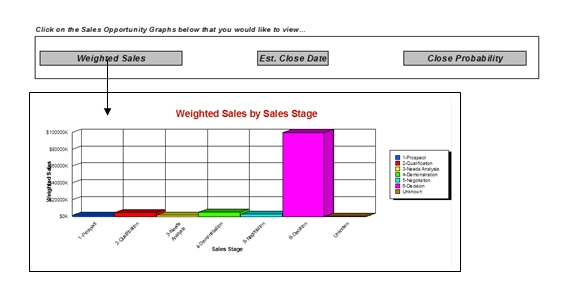 The Quota Vs Actual Sales report uses the Quota data (which is entered through Tools/Manage/Quotas) and compares it to the Opportunities in the system by SalesLogix user. Real nice clean report.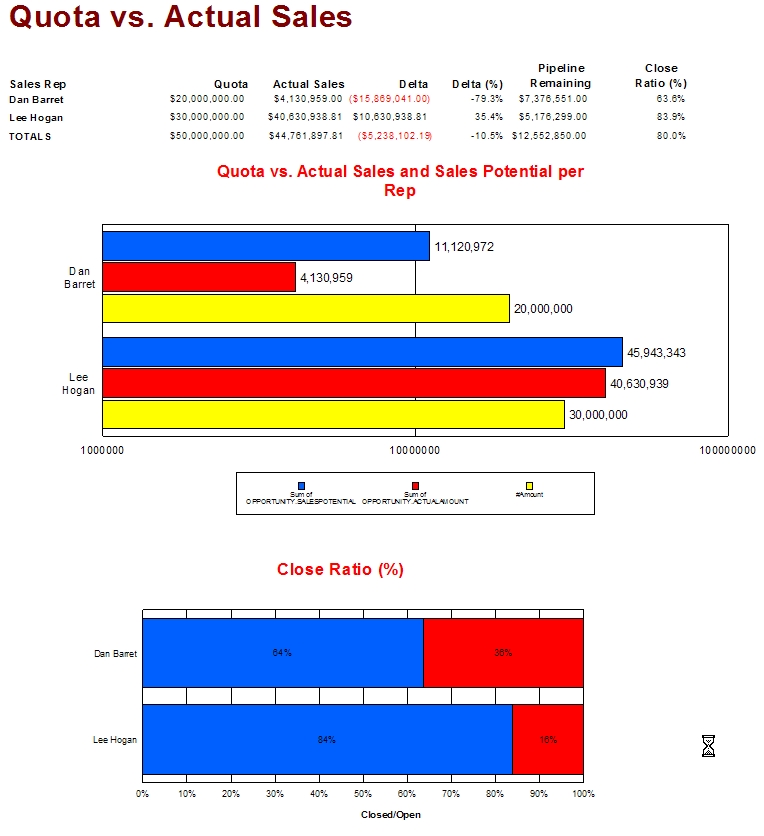 If your company uses the Opportunity Sales Processes to guide your sales force then the Sales Process Stage Analysis report is a great little report you should be looking at. This report tracks in great detail how effective each sales process is. I found the report worked really well one or two users at a time. You will also see the layout of this report could use a little work in just a few areas.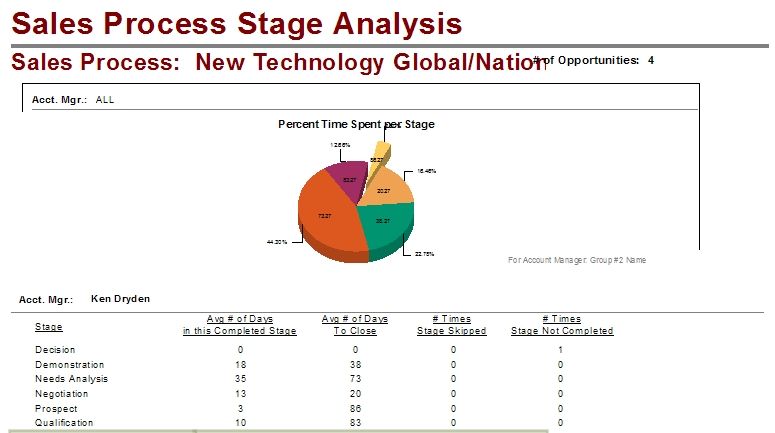 The Sales Process Step Usage report is another that supports the Sales Processes. No graphs with this one, first you are presented with a over all roll up of the data per Sales Process and then a by User break down. I did discover one issue with both of these last two reports. The stages are sorted ascending and then the steps are sorted ascending under the stage, I know that I would prefer to see the steps in the order they appear in the Sales Process. This can easily be done by using the specified order option for each group created in a report. This report has been updated, follow this link to see how.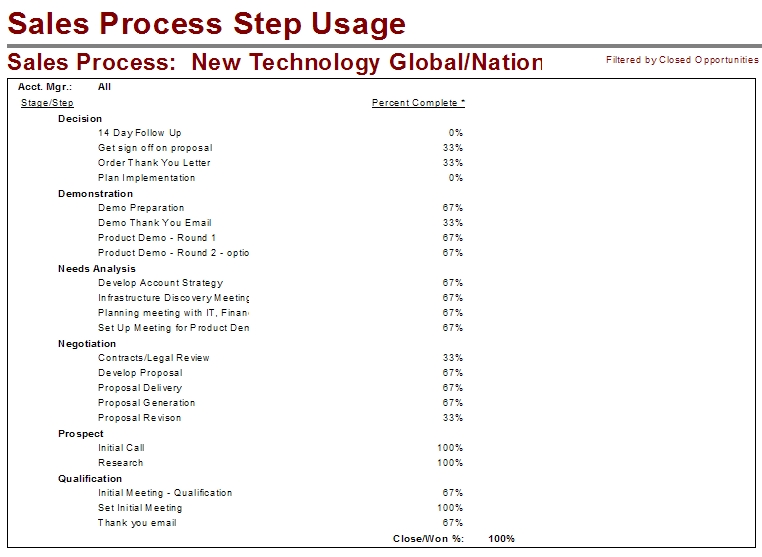 That is it for the Opportunity layer of reports. Next up, RMA and Tickets. These will probably be broke up into 2 to 3 posts. Feel free to leave comments, ideas, criticism, anything…..:-)
Enjoy your week – Geo