I have recently discovered that attempting to install a web manifest in SalesLogix v8 that contains items being added to the SalesLogix Web reporting portal will not install properly. During the install you receive an error of: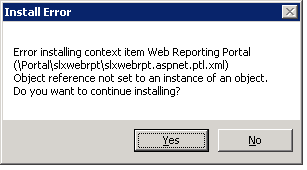 You can continue with the install but any items to be added to the Web Reporting portal will not be added to the system.
This problem happens both with manifest created in previous versions (7.5x) or new manifests created on v8x.