A great new addition to SalesLogix in version 6.2.3 is the new SalesLogix profiler tool. This is an awesome help to those developing, troubleshooting, or supporting SalesLogix customizations and addon applications.
The SalesLogix Profiler provides a database independent profiling application (similar to Microsoft's SQL Profiler) to trace SQL and performance counters throughout the execution path of the provider. You can choose to profile any running SalesLogix applications using the SalesLogix OLE DB Provider, such as the Network Client or Web Client, and even profile any other 3rd party or custom applications using the SalesLogix OLE DB Provider.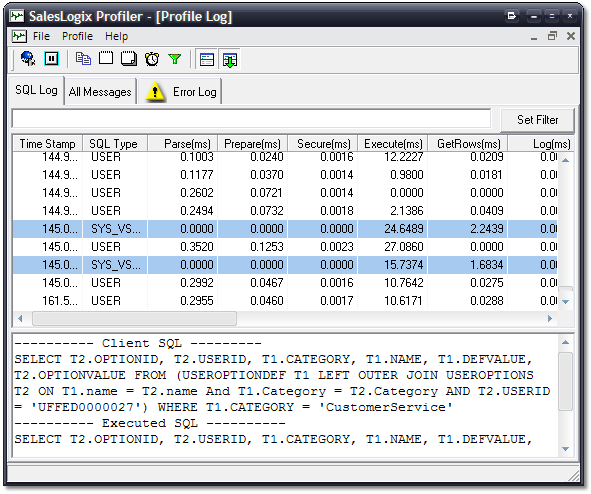 The SalesLogix Profiler gives you so much information that you just couldn't get to before when it comes to your statements as they pass through the provider. Have a problem SQL statement? Not a problem now as the profiler will show you the SQL passed to it from your code and the modified statement with the security conditions appended and the resulting parsed SQL.You also can see parse time, preparation time, time to add security conditions, and execution time for your statement so you can really get your critical queries finely tuned. Just awesome. The best part is that you can profile your own custom applications also. As I am building an app in C# I can use this to see the statements executed from my specific application. I can use this to see what is happening from my imports using SQL DTS.
It's just one of those things that after you start using it you wonder how we ever survived without it before. I've added it to my list to eventually write a full tutorial on it for slxdeveloper.com, but that's a long list so don't hold your breath. Of course, it would be great if someone could beat me to it 😉