I recently experienced a problem on a test development environment where the SalesLogix web site I was working on was experiencing slower than normal performance.  I noticed this especially after frequently re-deploying the site to troubleshoot some problems.  Now in this case I had been doing my development on an Application Architect instance on a workstation and then deploying my web site to another server.  I decided to take a look on the web server and see why the site performance would be so poor.  I discovered that the DW20.exe process was maxing out the CPU and preventing the w3wp.exe from doing its thing in compiling my ASP.Net pages.  DW20.exe is a Windows process for error reporting.  See this KB for details.  This posting also points out how to disable the process by modifying registry keys.  After doing this I was still having the issue though.  I discovered that there is a way of turning off this error reporting through a Windows management interface.  All you need to do is:
Bring up Control Panel.
Open System
Go to the Advanced tab
Click the Error Reporting button.
Choose the Disable Error Reporting.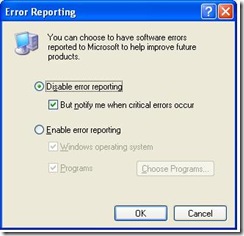 After that the process disappeared, and the CPU was freed up for use on building my web site.  I would think it is probably a good idea to turn this feature off in a development environment, as you are likely to be producing the kind of problems the error reporting process is likely looking for.  I am not sure what point the process goes crazy but if you run into it, hopefully this post will help out.