Recently I upgraded a SalesLogix web environment from 7.5.1 to 7.5.2. Once I had done so when I tried to deploy I received the following error:
ERROR – The following project item, 'PortalSlxClientChildPagesAccessAccess.page.xml' failed validation.
The error referenced a custom page called Access in the system. I opened up that page and everything looked fine. I have had experiences like this where if something errors in 7.5.2, simply modifying it trivially (like adding a space to a code file) and re-saving fixed the problem. When I tried that on this scenario I received an error when attempting to save: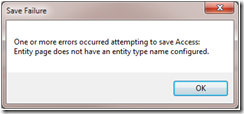 Apparently the 7.5.2 does some additional validations that 7.5.1 does not. This particular page it turns out did not have an Entity defined for it under the Page's Page Property collection. Once I added that, I could save it. After saving I was able to deploy.
If you run into an error during deployment, check out the page it references. Make sure it is properly configured. Again this kind of validation in new in SalesLogix 7.5.2 web.