Today we continue fixing the Crystal Reports that come with a standard Implementation of SalesLogix. The report I am targeting today is the Support Account Product list. On November 20th 2008, I wrote a bog post labeled SalesLogix Account Level Reports that contained the following about this report:
The Support Account Product List displays basic Asset information for an Account. Condition filtering is set up to use the records Account Manager and Modify Date. The report displays just the Product Name and Serial Number for each Account. The only thing I would suggest is that the report could use more detail. When did the Account purchase the product? What was the purchase price? What version of the product? Did you sell it to them or was it a legacy Asset from another vendor? The nice thing this report provides is the structure to include answer to these questions.
Here is the report prior to modifications

So let's fix this report. First, I went into the Database Explorer and removed the ADHOCGROUP table and reviewed the other tables. Because I want to be able to call in some Opportunity information so I added the Opportunity and the Opportunity Product tables linking to the OPPORTUNITYID and OPPPRODUCTID of the AccountProduct table.
Now back in Crystal Reports I dragged in dropped the following fields on to the report: AccountProduct.PrdDecsription, Product.ActualID(SKU), Product.Family, AccountProduct.Notes, AccountProduct.Location, AccountProduct.AssetCode, Contact.FirstName, Contact.LastName, AccountProduct.PuchaseDate, AccountProduct.Status, OppProduct.Price, and Opportuntiy.Description field.
To create the full name as Last Name, First Name format, I simply added a label to the report and dragged the fields into the label separated by a comma and a space. I also formated the Purchase Date and the Price fields.
Once this was complete, I spent some time grouping and aligning fields together. Finally, I worked with fonts and sizing of labels and did my traditional shading of the Account Name. Here is the report after modifications.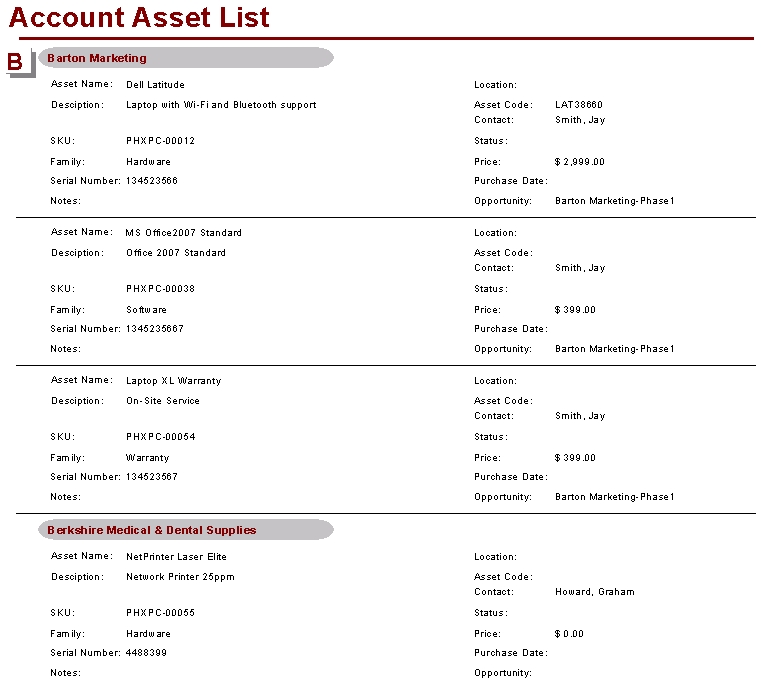 Download the modified version of this report using this link.
Get all of our Free SalesLogix Reports here…
God Bless!