I wanted to give a quick preview for a new product I'll have coming out this year. Outlook2CRM for SalesLogix is the successor to the Outlook Ticket Addin but extends to far beyond only tickets.
Outlook2CRM allows you to add your own custom buttons in Outlook to trigger events in SalesLogix. You basically use a toolbar editor (screenshot below) to create a new button in Outlook and then create a SalesLogix plugin in Architect that will receive the click event from that button. All details from the selected e-mail in Outlook are passed to your SalesLogix Form or Script plugin, including attachments, the e-mail body & subject, and even the matching contact's CONTACTID (the contact that matched up to the e-mail address for the selected e-mail). You can then do whatever you want with the e-mail data from the SalesLogix plugin. The buttons you create will appear for all SalesLogix users in Outlook and you can even bundle the toolbar buttons and apply them to other databases.
With my Outlook Ticket Addin, I would get requests all the time from people wanting to customize it's functionality. Well, now you can. With no knowledge of programming for Outlook and the Office extensibility model, you can easily add buttons in Outlook and make them do whatever you want!
Here's some screenshots:
Without SalesLogix running


With SalesLogix running


The Outlook2CRM Toolbar Editor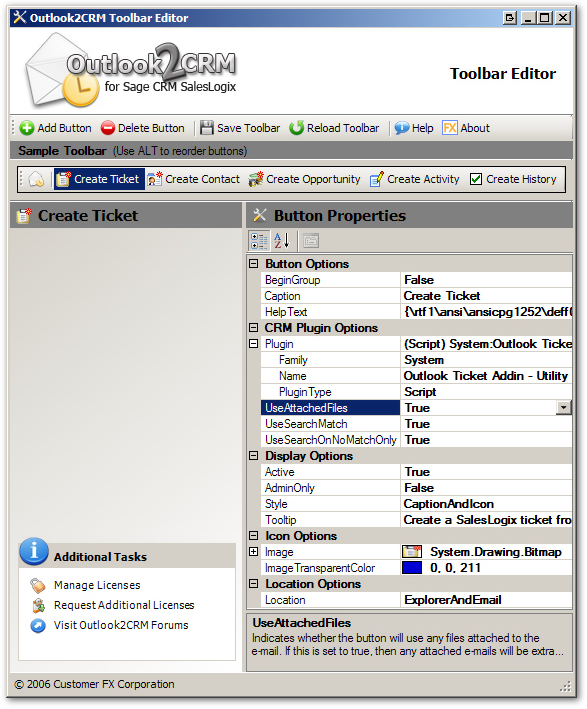 If you want to take a peek at a pre-alpha build in action take a look! (The video shows this running with SLXv7 although this works with 6.2 and higher)
Stay tuned for more updates!