Real quick post today as we continue fixing adjusting and updating the Crystal Reports that come with a standard Implementation of Sage SalesLogix. On November 28, 2008 I wrote a blog post labeled SalesLogix Contact level Reports, the following is a portion of the post concerning the Contact By Account report.
Start—————————————
The Contacts By Account List report provides an excellent example of what an additional parameters on the Contact Address Book would provide and also why I believe the reports area of SalesLogix could be cleaned up. The only real difference between this report and the Contact Phone list is the grouping by Account. I do like how this report provides the Contacts Title incorporated with the name. I think it would be valuable to identify the primary contact for the Account, maybe even list them first.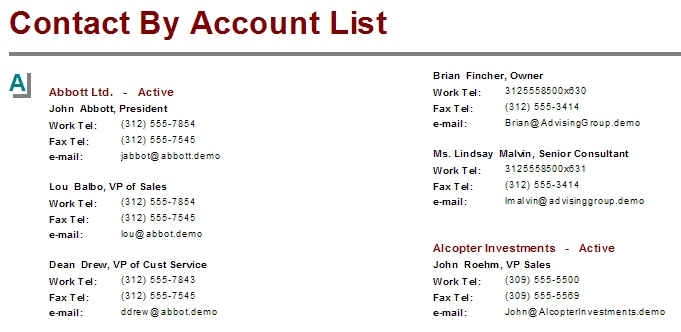 End—————————————–
All I will do to improve this report is identify the Primary Contact for each account. This time instead of using the stars, I will accomplish this by adding a shade box that makes the Primary contact stand out from the others. This is a little tricky because the shade boxes do not have the suppress formula functionality that most Crystal Controls have but we can still get around that by adding another section to the report and have it overlay the section with the data. Then we will write a rule that suppresses the section if the Is Primary Contact check box = 'F'.
To update this report, the first thing I did was a check of all of the tables and of the 14 tables associated to this report only three are providing data. I removed all tables but Account, Contact, and Address.
Next I added the new section by right clicking on Group Header #4 and selecting "Insert Section Below" from the list that appears. This will rename Group Header #4 to 4a and you will see the new section you just created labeled 4b below. Right click and hold on the Group Header #4b and drag it to the position of 4a putting the empty section above the established one. Drag the bottom of now Section 4a to make both sections the same height. Right click on section 4a and select "Section Expert" from the list that appears. When the Section Expert form opens, check the "Underlay Following Sections" check box. Then click on the button directly to the right of the "Suppress (No Drill-Down)" check box and copy the following parameter into the Formula Workshop:
{CONTACT.ISPRIMARY} = 'F'
Finally, add the box to the new section and shade to what ever color you want. Play around with the alignment until things look good to you. I also added a label defining the meaning of the shaded box. Here is the report with our updates: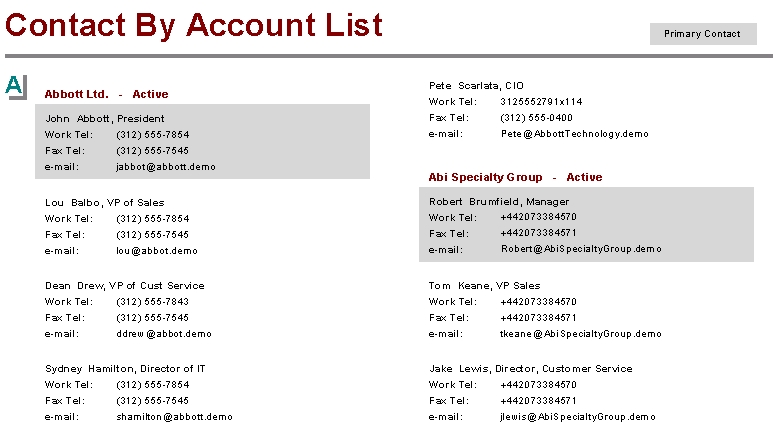 You can down load a free copy of the Contact By Account report using this link
Get all of our Free SalesLogix Reports here…
As always thanks! Until next time – Be well! Do good things! Most of all – Keep Smiling