I reviewed the SalesLogix Work Order Crystal report on the 19th of February 2009. This report turned out to have a number of issues. Here is what I wrote about this report in my original review.
Start Excerpt…………..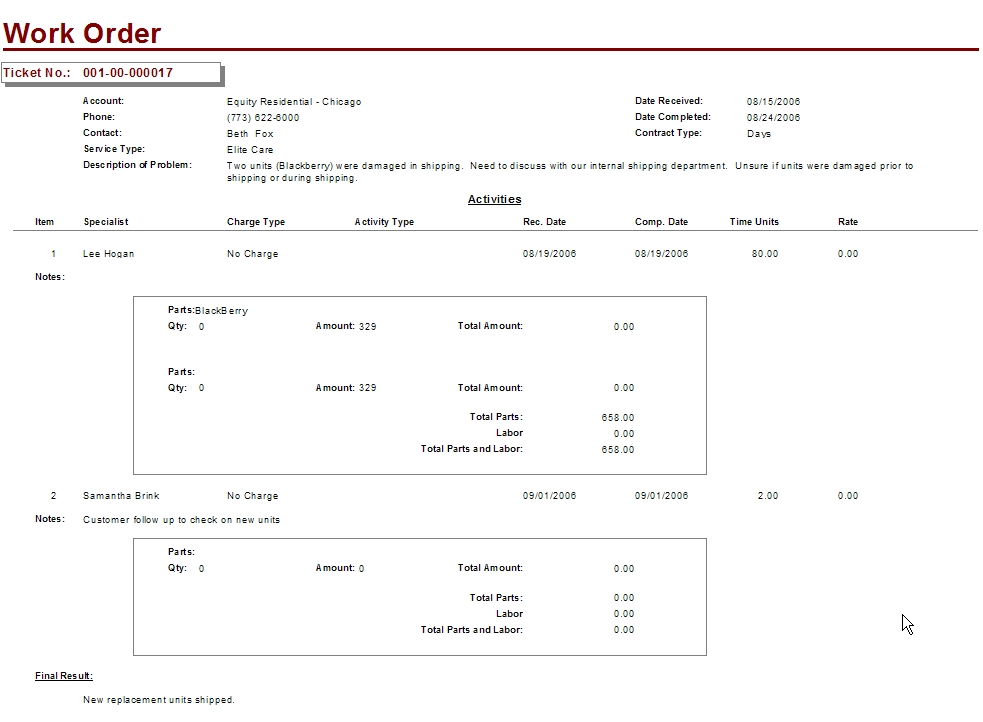 Looking at this report you see that it is out of date with the way SalesLogix currently operates today. For example, with standard SalesLogix you can not choose a Qty when entering Activity Parts for a Ticket, this is causing an issue with the Total Amount field. To fix this report I suggest removing both the Qty and Total Amount fields and then make some adjustments to the layout to include removing some of the white space to shorten the over all length. Also, I think this is one of those reports where it would be nice to launch it from the Ticket main view. Over all I like this report and with a little effort we can make this a very valuable report for all users of the system.
End Except………………
The first item of business was to remove the Activities label sitting in the center of the report. Then I took some time to look at the tables included in the report and that is where the mess started. So much needed to be changed I have now lost track. A number of tables were removed and adjustments to links were made. Once the data was coming properly I made the following changes:
I changed the report layout from Landscape to Portrait. This made me tighten up all of the fields and removed a lot of the white space I discussed in the initial post.
To the Ticket Detail area I added the Received By, Assigned To, and Completed By fields.
I fixed the TicketActivity area so the correct fields are displaying based on the Ticket area and updated the date fields to display Time and Date ands then borrowed some code from one of my previously fixed reports to display the units in hours and minutes.
I removed the QTY field and matched the fields to how parts are currently managed in the Ticket Activity Area. This area is now set to only display if parts are actually added to the TicketActivity.
All note fields have been combined with their labels and set to display only if data is present.
This is the way the report looks like now.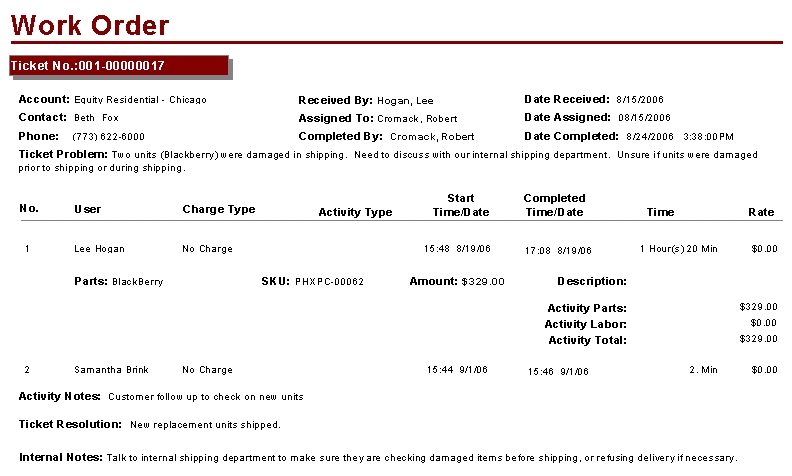 Download a free version of this report by following this link.
Get all of our Free SalesLogix Reports here…
Remember we have a class coming up. Crystal Report Writing for SalesLogix
I hope all is well with everyone.