I wanted to take this blog post to briefly outline the different types of Forms available to you in the SalesLogix LAN client, mostly for anyone who is new to creating views and customizing SalesLogix.
Essentially, there are three types of Forms: MainView forms, Data Forms and Manage Forms. (I suppose you could include Legacy Views as well, but if you are still using legacy forms, it may be time to reconsider your customizations!)
MainViews
MainViews are forms which define the "Main" areas of SalesLogix, such as Account, Contact, Tickets etc..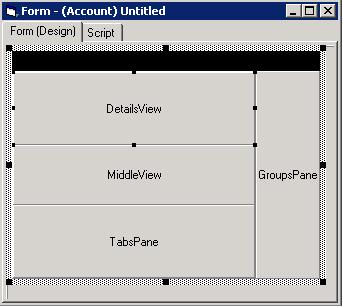 The form contains sections for the various sections visible in SalesLogix (Details, Middle, Tabs and Groups), which are set up to display other Views build for that table in SalesLogix. I'll get into the details of creating a MainView in a future posting.
Data Forms
Simply put, a Data Form is a form based off of a particular table in SalesLogix. Most often, these views are used to create tab views in SalesLogix.
When creating a new data form, you are presented with the Select Main Table dialog, which allows you to choose which table the form is based on. Fields from whichever table is selected (including joins) will be available when setting the Text property of any control you may add to the form.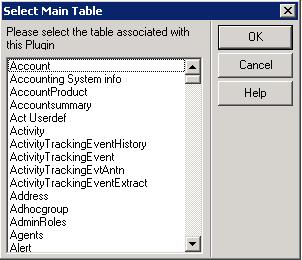 When creating a form, there are options to create an Account, Contact, Opportunity, etc. forms, but essentially these are data forms as well. SalesLogix simply provides a set of common view types. There is no difference between creating an Account Form, or a Data Form and selecting "Account" in the Select Main Table dialog.

Manage Forms
A manage form is basically a form which is not related to a specific table in the database. Almost any control on this type of form must be populated via code in some way (ADO is a great option, here's somthing to get you started [:)]). The SQL property of Datagrid controls can be set on Manage forms to display information from tables, however you would have to set the bindid and refresh the grid to show desired information. Typically, I use manage forms called from either a toolbar button or menu item to set custom system-specific data in SalesLogix.
I'll get into details of creating each of these types of forms in my next blog post. For now, I hope this gives you an idea of what is available in the LAN client and I also hope that you will take some time to experiment with what is available. Thanks for reading! [:)]