We are now half way through fixing or adjusting the six Contact Level Crystal reports that come with a standard implementation of Sage SalesLogix. Today we focus on The Contact Summary Report. On November 28 2008 I wrote a blog post labeled SalesLogix Contact level Reports, the following is an exert on the Contact Summary report.
Start Post————————————-
The Contact Summary report is one of those reports that could be replaced with the modified version of the Contact Detail report. You are provided a parameter for filtering out History. If I were to improve this report I would remove the dead space that provides the Contact details by leveling out the fields into two even columns.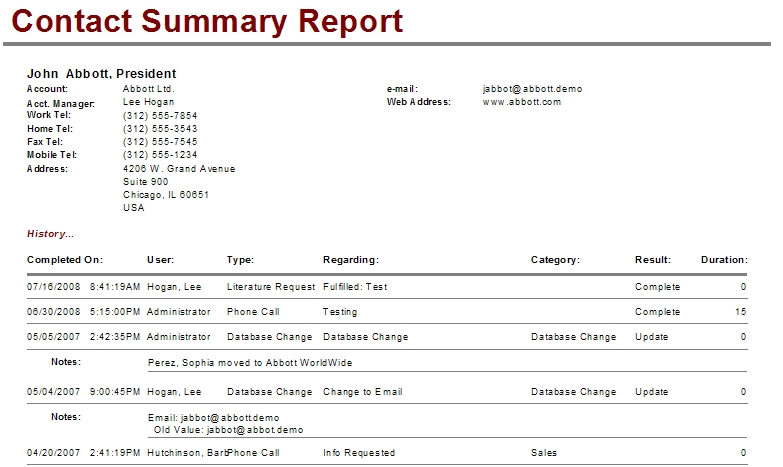 End Post———————————
Compared to the last post this will be very straight forward for any of you following this blog. Really nothing here we have not done before.
The first thing I have been doing to update these reports is to remove any excess tables that do not provide a purpose to the report. For this report I removed the Account, ActUserDef, Activity, Adhoc, ContactLeadSource, LeadSource, LitRequest, Opportunity, and Opportunity Contact tables. All the other tables were providing data to the report.
Next I lined up all of the Phone numbers into the same column removing the Web, Home, and Pager fields. Last week I had worked with a couple of different subreports while fixing up the Contact Detail Report, one of the reports I used was an Address report. I removed the Account and all Address fields and called in the Address report as the subreport to display Account Name and Addresses for each Contact.
I added a shade box on Details a which allowed me to separate out History records. I also replaced the History.Notes field with the in the History.LongNotes which will display all of the notes for a history record, not just the first 255 characters. I played around with alignments and fonts, hoping to make the report a little more smooth compared to the standard version. Here is the out come.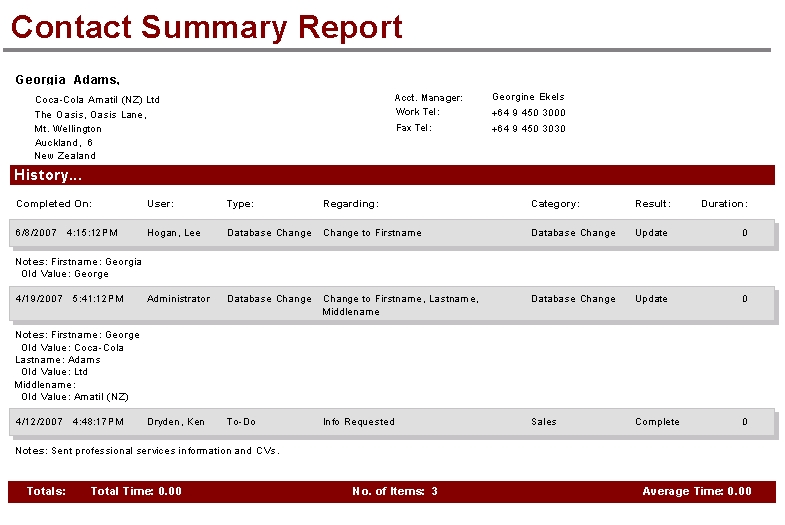 You can down load a free copy of the Contact Summary Report using this link.
Get all of our Free SalesLogix Reports here…