As Dale Richter mentioned in his recent post, the layout of the "Lookup Results" group can be modified using the standard Manage Lookup functionality to define the layout of the appropriate group. But how do you know which group is the one used as the default? Starting with SalesLogix version 6.2, the concenpt of the "Main View" was introduced. "Main Views" are plugins that act as a containers for other plugins. Every customizable main area in SalesLogix utilizes a main view (Account, Contact, Ticket, Returns, Opportunities, etc.). These Main Views allow you to define what detail screen (top part of the screen), middle section, and tab views are available in any given area in SalesLogix. They also define what right click menus are available and also what default lookup group is defined.
Ah, so there it is. The main view plugin defines which lookup is used as the Lookup Result group. Lets take a look at this. When you first open a main view, there is not a lot to see.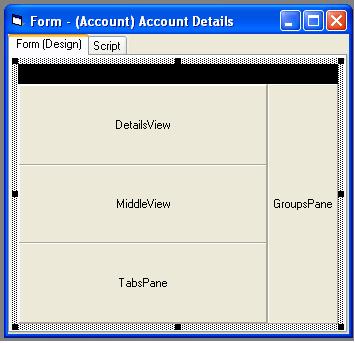 There are sections defined for each of the areas that comprise the main view (Detail View, Middle View, Tab View, Group View). Along the top there is a black bar that holds the details about the main view and its properties.
If you open the the properties window in Architect and click on the black bar you will see that one of the properties exposed is the "Quick Find Lookup" This is lookup used when you use the quick find at the top of a entity screen in SalesLogix. It is also the same lookup which determines the layout of the Lookup Results group for the main view.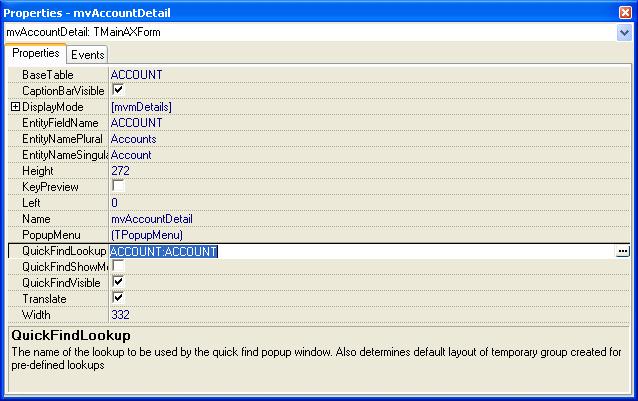 So with this information you can go to Manage Lookups and find that group. Choose Manage,,,Lokups from the Architect menus.
In the Lookup Manager dialog, choose the table the lookup is for. This is defined as the table before the colon in the QuickFindLookup property (In the screen shot above the property is "ACCOUNT:ACCOUNT" so we know the lookup is from the Account table).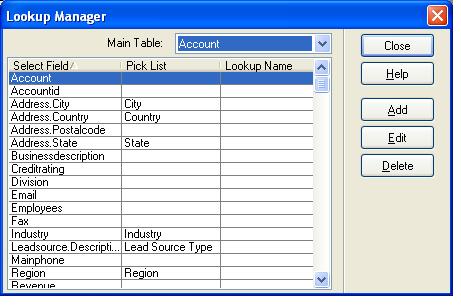 Now with the correct table defined, simply find the lookup by name. Click Edit to edit the lookup, and then from there modify the Layout properties. Again, you can see Dale's post for specifics on this.