In Brianna's post she mentioned how there is new functionality in SalesLogix 7.5.1 called filters. I wanted to explain what exactly this change is and how it impacts the use of SalesLogix.
Prior to 7.5.1 the group filters that were available on the filter pane in the group view were dynamically created based upon the columns contained in the current group. Each column created a filter automatically. Inside each filter was a distinct list of the values in that field. For instance, if I created an Account group that contained two columns "Account" and "Type", when I view that group I would see in the Filters section to the right, two filter options for "Account and "Type":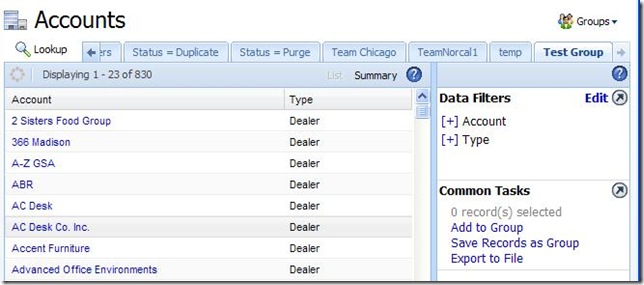 If we expanded out any of the filters, we would see a distinct list of the values: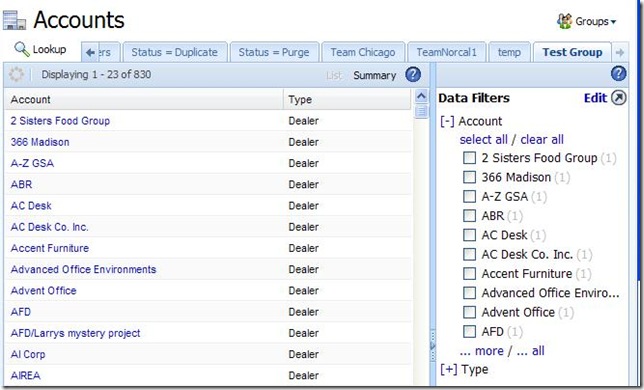 I would imagine, that building this kind of dynamic listing was a little processor intensive and probably part of the reason why SalesLogix 7.5.1 has changed this.
New in SalesLogix 7.5.1 is the ability to define Filters at the entity level: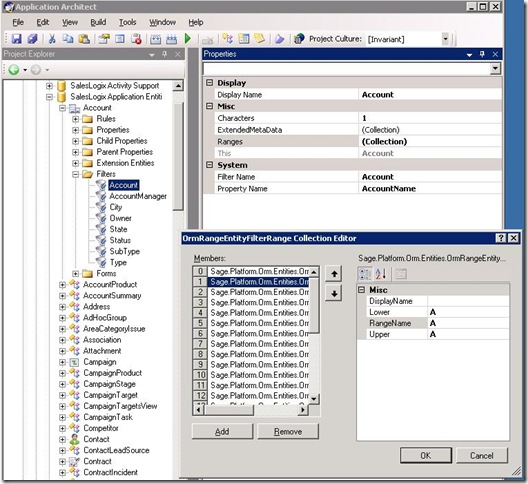 These defined Filters are now static on all groups in 7.5.1. Meaning that regardless of which columns are in your group you see the same Filters: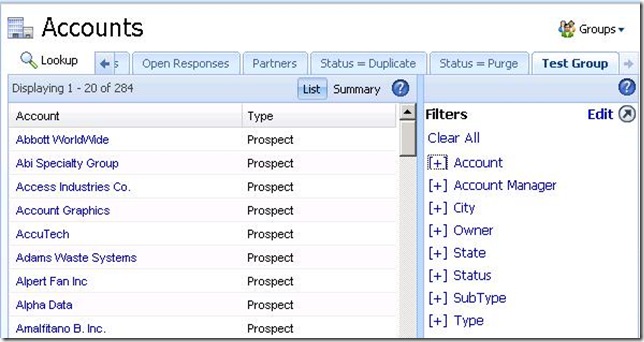 Some of These filters have a property called "Ranges", which is shown in the screen shot two images up. Inside this ranges parameter you define in what way the Filter filed should be searchable. We can see the previous screen that the Account Filter has a set of Ranges for A. B. C. D. etc. If we expand out the filter now next to the group, we can see how these correlate to the GUI.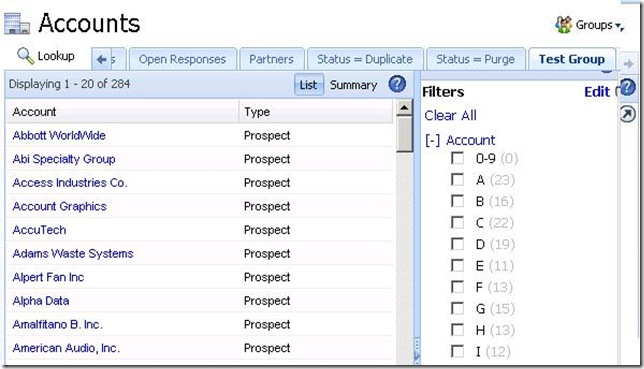 So there you have it. Filtering has changed in 7.5.1. In some ways it can be argued that it is better since you can define ways that all groups should be searched. You have now lost the ability to let the user build a group, and utilize the auto-filter building based on the columns in the group. This was nice functionality to have- in 7.5.1 you must define all the filters that users may need to use. Potentially you might have to define a lot of filters that serve no purpose for most groups, but if one group has to have it, all groups do.
I will be blogging more on these filters shortly.