In the SalesLogix 7.5 web client, there is a method that runs when the insert activity screen opens while on a current account/contact/opportunity that relies on the Sage.SalesLogix.Activity.UserCalendar class to determine if the current user has calendar access to insert, edit or delete activities.  This method will allow for correct behavior of normal users, however the admin user does not have entries to allow for this class to properly allow the admin login to create activities unless the account manager of the account and contacts is set to admin.  In this case the system assumes you have the right since you are the manager of the account/contact.
The result of this is the admin user is unable to add activities into the SalesLogix 7.5 web client unless the account manager on the account or contact the activity is being added against is set to admin. 

Notice how the screen control are all disabled.  This is because the Sage.SalesLogix.Activity.UserCalendar.GetUserCalendar method does not correctly return an abject when the screen opens for the admin user. 
This behavior can be avoided if you create an activity while not on a current record, such as creating an activity while on the welcome page.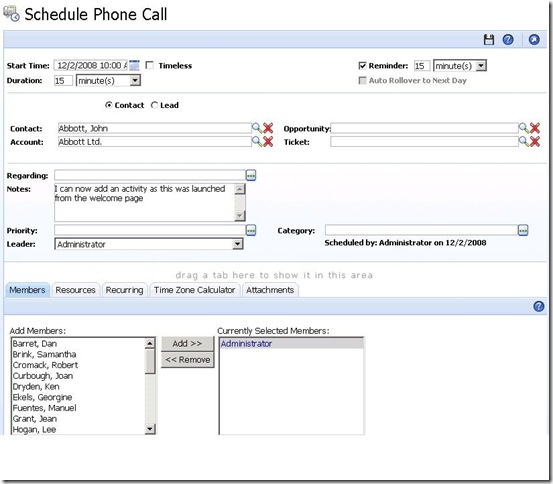 This activity, launched from the welcome page, allows you to create an activity for the same account you could not create it for when launched from the account or contact records.