Need Help Managing Multiple SalesLogix Databases? We'll Cover You.
SQLBrowser is a utility that will help you manage multiple SalesLogix databases. As a SalesLogix business partner, we can have hundreds of SalesLogix databases on our network at any given moment – all different versions that are hosted on different SalesLogix servers. Need to work with the database for "Customer X"? Good luck finding which server it is hosted on and which version of SalesLogix it is.
Not any more.
With SQLBrowser you just log onto a SQL Server instance on the network and you'll see which SalesLogix databases are hosted there, what version of SalesLogix they are for, which SalesLogix server they are hosted on, and when they were created.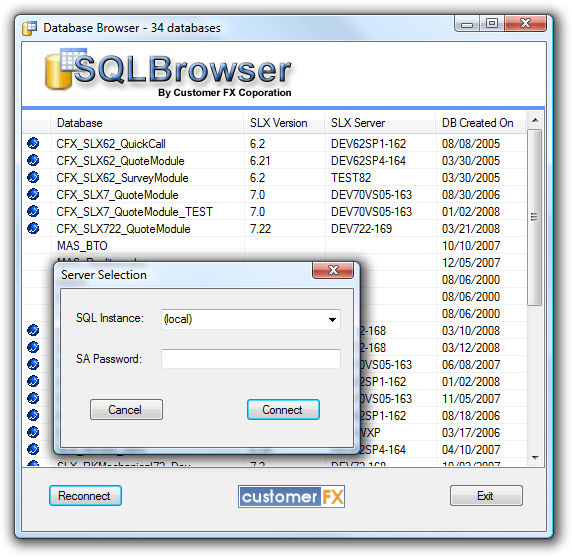 Talk about making it easy. No more searching around. SQLBrowser sits in your tray for easy access when you need to find a database quick. A free beta download from the Customer FX Labs.
Technologies Used
Microsoft .NET 2.0 Framework

Win32 Network APIs for SQL Server discovery (no need for locally installed SQL DMO)
Download
Click to Download SQLBrowser (beta)
(Free – Registration/Login required)

SQLBrowser is a beta release and provided "as-is" with no warranties. Thanks for visiting the Customer FX Labs.